United Nations denies D'banj, says he's not their ambassador
United Nations washes hands off D'banj as singer faces intense scrutiny over rape allegation.
The United Nations has clarified that singer and entertainer, Oladapo Oyebanjo aka D'banj, is not a United Nations Youth Ambassador for Peace.
In 2012, D'Banj's publicists did say that the musician was the first Nigerian to be appointed a UN Youth Ambassador for Peace.
The Kokomaster, as D'banj loves to be called, has been embroiled in a rape scandal since the beginning of June. 
Seyitan Babatayo has alleged that D'banj raped her in December of 2018.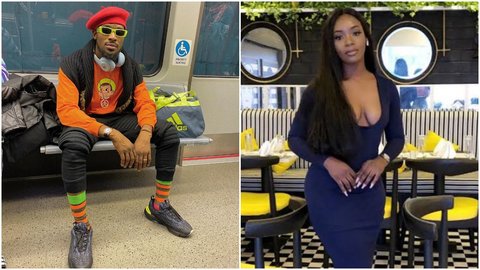 Dbanj had earlier taken to his Instagram page where he demanded an open apology from the young lady with compensation of N100M. [Instagram/IamBangaLee] [LindaIkeji]
Benjamin Ese, who is Babatayo's friend, was the first to relay how D'banj sexually molested the accuser on the night of an all-white party.
"D'banj drove all the way from Eko hotel where he was lodged and came down to Glee Hotel in Victoria Island at midnight 2.40 am and collected the spare key from the receptionist.
"He got into my friend's room and forcefully threatened he would walk her out of the room naked, kept his fingers in her vagina, and repeatedly raped her," Ese had shared.
The allegation sparked outrage on social media platforms and kicked off an online petition which called on the UN to strip the artist of his ambassadorship.
Some 22,000 persons and counting, have signed the petition.
However, in an email sent to Punch, the UN said D'banj has never been on their books.
Nigerian music star, Dbanj has finally come out to address the rape allegation levelled against him by a young lady. [Instagram/IamBangaLee]
Director of Information, United Nations Information Centre for Nigeria, Joseph Kayanja, told the newspaper that; "I would like to confirm that the said Mr. Oladapo Oyebanjo aka D'Banj is NOT a UN Ambassador. The title was accorded to him by an obscure UN youth association which has nothing to do with the United Nations. I hope this clarifies."
Babatayo formally filed a criminal complaint of rape against D'banj on Wednesday, June 24, 2020 after the entertainer reportedly masterminded her arrest and detention by the police. 
There are reports that Heritage Bank has also severed ties with the singer.
The police is currently investigating D'banj following orders from the Inspector General of Police and the Lagos State Attorney General.
D'banj has maintained that he is innocent until proven guilty.
Trump finally leaves the White House
At long last, Donald Trump goes out US President, Donald Trump, Wednesday left the White House to finishing his residency.
He was spotted leaving with his wife, Melania, from the grass of the White House.
The President elect Joe Biden will quickly be introduced as the 46th American President.
His inaugural speech will not be about Trump, according to Biden's Spokesperson, Jen Psaki.
He said: Joe Biden's first speech as president will not be about Donald Trump.
"We spend a lot less time talking about and thinking about and worrying about Donald Trump than I think most people assume," Jen Psaki, who will be the White House press secretary,speaking to CNN.
"This is a forward-looking speech," she said of the inaugural address, which Biden will deliver after he is sworn in at noon (1700 GMT)."
Ex Minister kuye dies at 78
Ex Minister of Commerce and Industry, Sen. Jubril Martins-Kuye, on Sunday morning passed on, matured 78.
The clergyman's political godson, Sen. Lekan Mustapha, representing Ogun East senatorial region in the Senate, affirmed his demise.
Sen. Mustapha portrayed the demise of Martins-Kuye as stunning, saying he was a mentor as well as a pathfinder.
As per reports, the previous clergyman would be buried by 4.00 p.m. on Sunday as per Islamic customs.
The News Agency of Nigeria (NAN) reports that the lawmaker was delegated Minister of State for Finance in June 1999 during the initial term of President Olusegun Obasanjo, serving until June 2003.
The at that point Acting President Goodluck Jonathan additionally designated him as Minister of Commerce and Industry on April 6, 2010.
Late Martins-Kuye was brought into the world on August 1942 in Ago Iwoye town in Ijebu North nearby government zone of Ogun state.
He was an individual from the Social Democratic Party (SDP) under the foundation of which he was chosen a congressperson in the Nigerian Third Republic.
Martins-Kuye turned into an individual from the United Nigeria Congress Party (UNCP) towards the end of the Sani Abacha system.
He likewise ran for governorship of Ogun on the foundation of the People's Democratic Party (PDP) in 1999.
Talibans shoot Afghan TV presenter dead
Gunmen shoot Afghan TV female presenter dead .
Taliban shoots dead a female anchorperson and her driver on Thursday, her boss stated, the second homicide of a TV personality in Afghanistan in a month.
Malalai Maiwand was murdered in the eastern city of Jalalabad, said Enekaas TV, the private TV station she worked for. Directed killings of noticeable figures, including columnists, priests, legislators and rights activists, have gotten more normal lately as brutality floods in Afghanistan, in spite of harmony talks between the public authority and the Taliban.
Attaullah Khogyani, governor of the Nangarhar province, and the local clinic affirmed the killings. Nangarhar area and its capital Jalalabad have seen customary conflicts between government powers and the Taliban.
The radical Islamic State bunch has likewise asserted a few destructive assaults in the region.
The homicide of Maiwand, who was in her 20s, comes only weeks after Radio Liberty columnist Aliyas Dayee was killed in a vehicle bomb assault in Lashkar Gah.
Human rights Watch said Dayee had recently been compromised by the Taliban. A previous TV moderator in Kabul, Yama Siawash, was killed in a comparable vehicle bomb assault close to his home a month ago.
No gathering has so far guaranteed these killings. Afghan powers are doing combating an expansion in savagery in the nation, quite a bit of it released by the Taliban as they endeavor to pick up influence in harmony talks in Qatar, which opened in September.