TOP 7 FASHION TRENDS OF 2018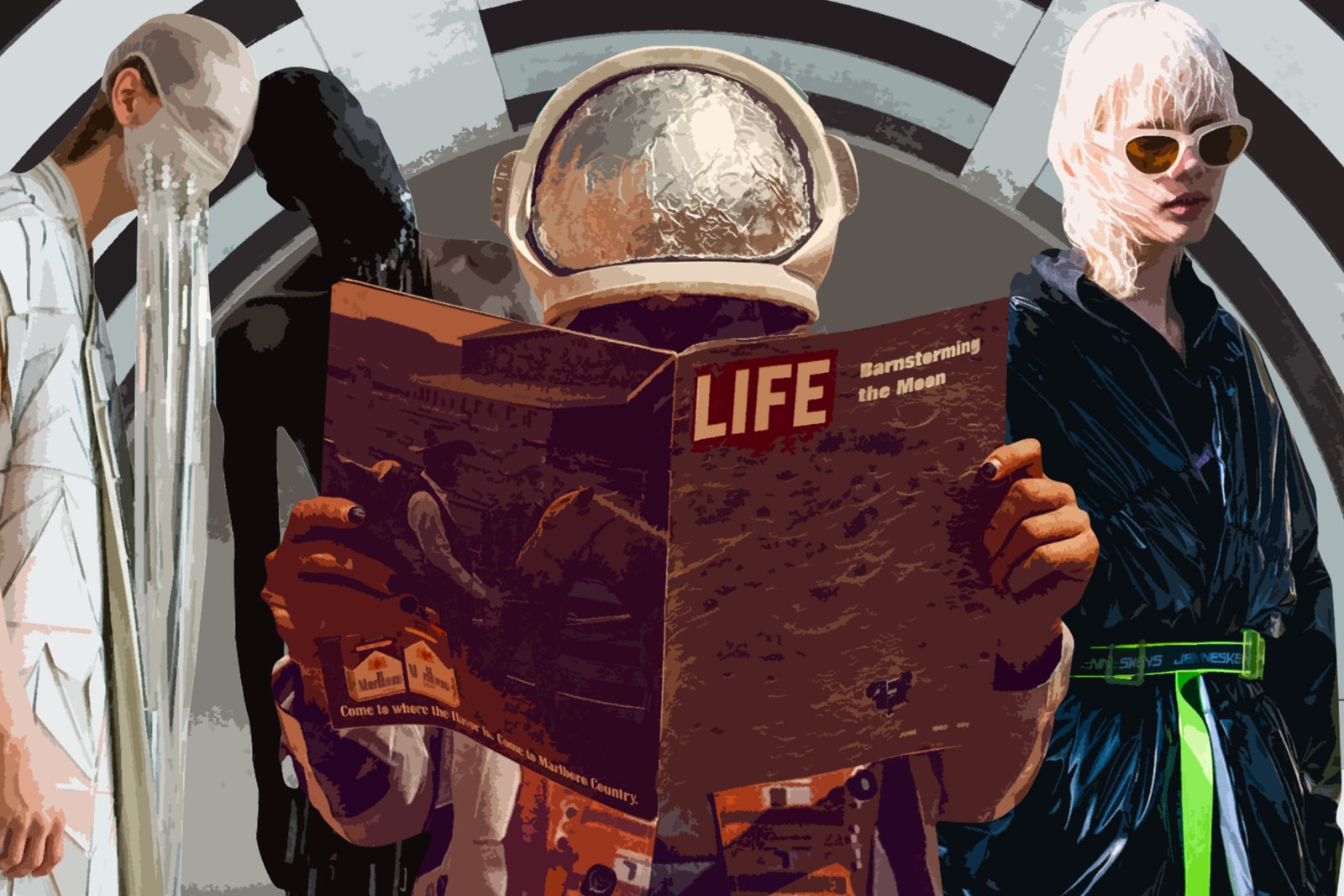 For better or for worse, 2018 was a trend-dominant year in fashion, to the extent that being on-trend was perhaps the biggest trend of them all.
With that said, none of the below mentions should come as a surprise. Many of this year's top trends were the logical-next-steps of 2017's movements, while others were indicative of general shifts in not just fashion but culture at large — genderless designs, satire on consumerism, and changing the notion of who (or rather what) we're dressing for in the social media age.
So without further ado, here are 2018's 10 biggest fashion trends, in no particular order.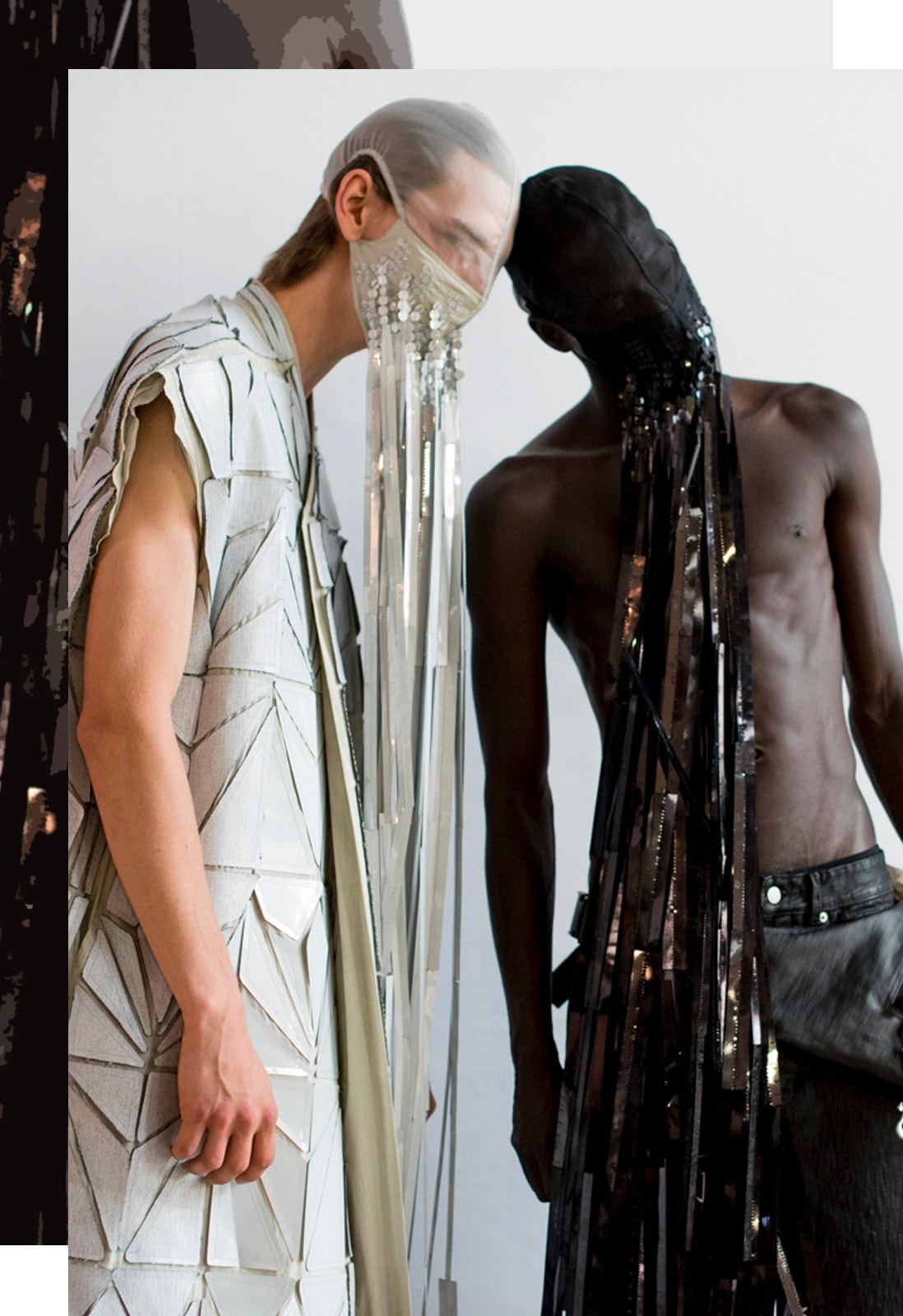 FACE MASKS
Very rarely do we come across a trend that hasn't been widely recycled in previous years. In terms of novelty, face masks take the cake as the most emboldened trend of the year.
Mostly taking form in the Fall/Winter 2018 season
, the face mask trend stretched to all corners of the fashion sphere, ranging from luxury designers to niche imprints. The statement, head-covering accessory varied from the surgical masks prevalent in Asia to pull-over knit balaclavas and ski masks. The heavily functional piece took on a more flippant attitude when it reached luxury imprints such as
Gucci
and
Calvin Klein
.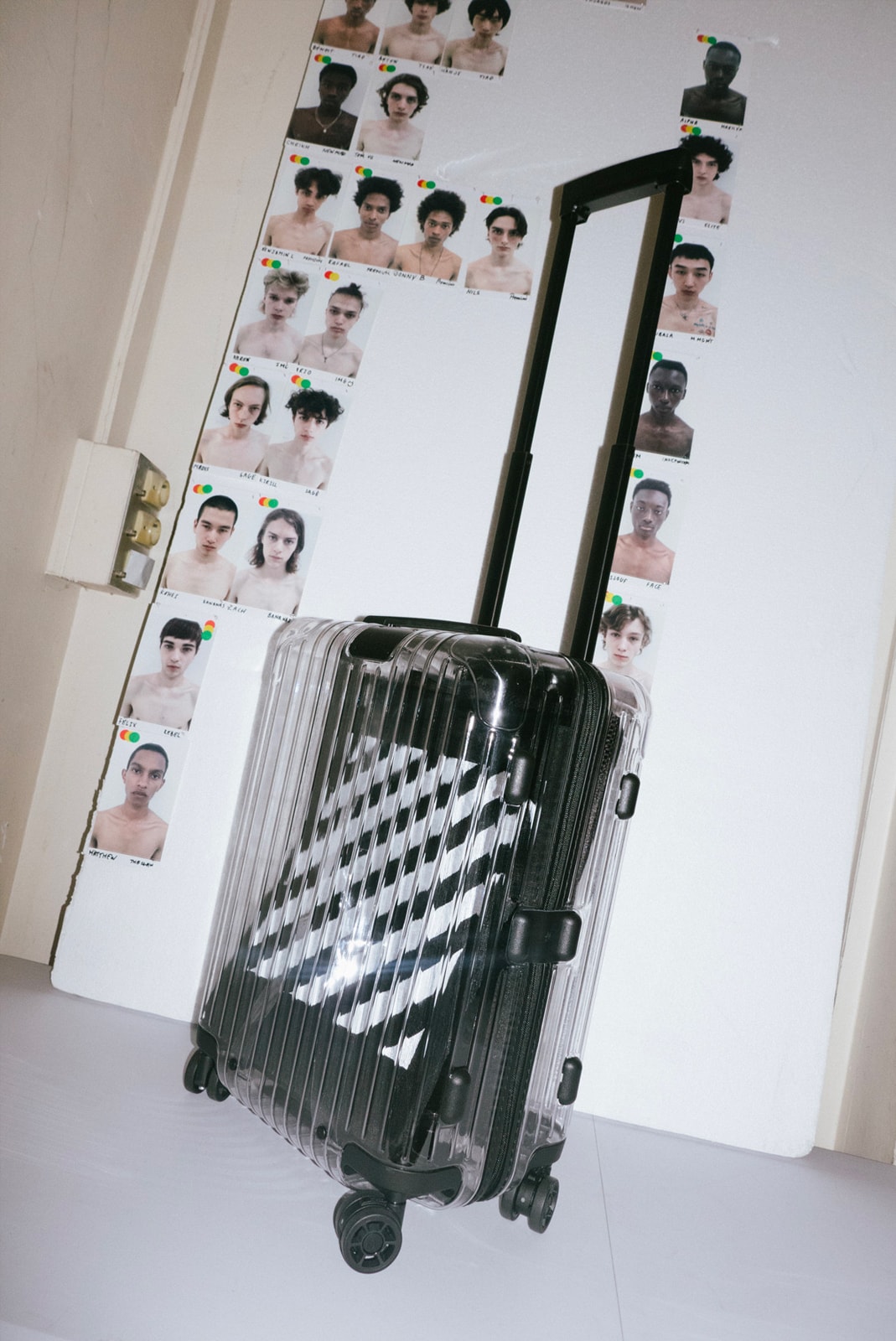 PVC/PLASTIC MATERIALS
This year, transparency in fashion took on a literal form via see-through PVC accessories and glossy, plastic surfaces. Though largely sprouted from utilitarian and industrial influences, the PVC trend quickly grew into an ironic display of impracticality.
Virgil Abloh's Off-White™ x Rimowa
clear suitcases and the slew of transparent tote bags courtesy of Celine, Prada, Raf Simons, Maison Margiela and more all had the cheeky inconvenience of exposing all personal belongings. Beyond the accessories department, clear synthetic materials also had a strong presence in clothing via see-through panels and pocket details, but also on footwear, most notably the
Nike React Element 87
's transparent uppers and the see-through stripe detail on the
newest YEEZY BOOSTs
.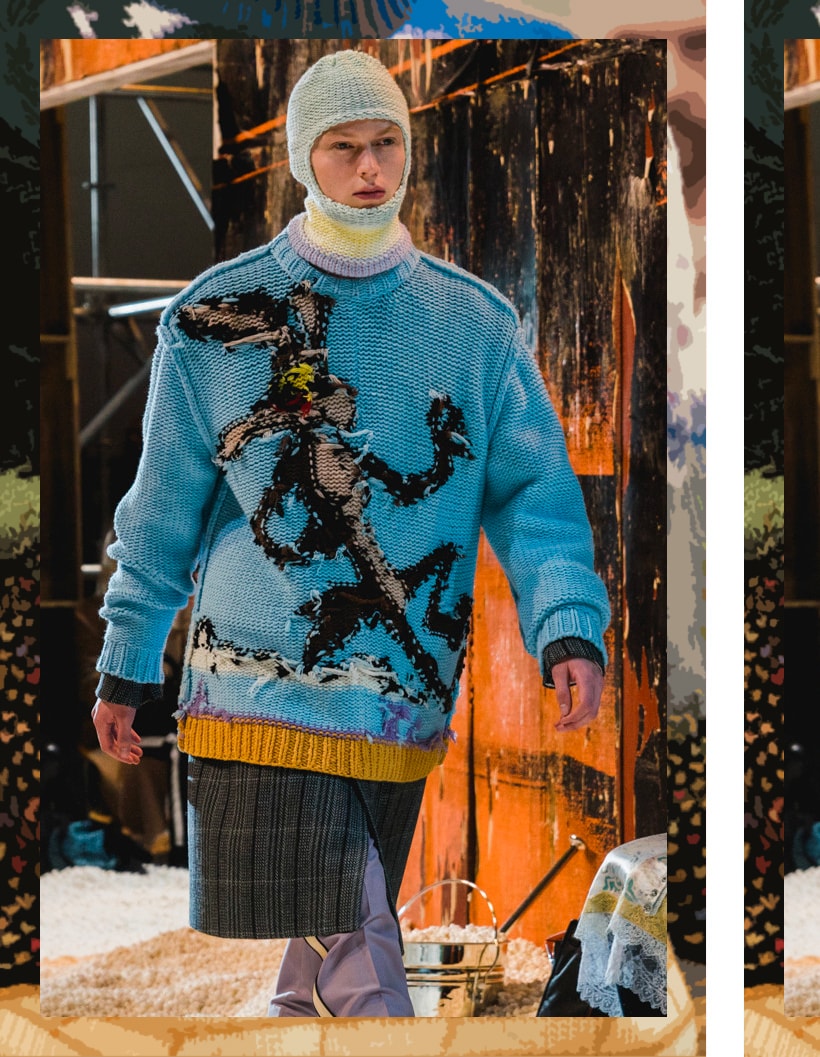 ANIME/CARTOONS
Every year in fashion has an element of nostalgia and for 2018, the reference point was '90s cartoon and anime classics. This year, Prada offered graphic collections centered on Japanese manga/anime,
enlisting Taiwanese-American artist James Jean
to design comic prints that were emblazoned on everything from bomber jackets to bags. Then there was Gucci, who continued its tradition of cartoon cameos with a
FW18 collaboration with Japanese artist Chikae Ide
on illustrations that include the comic 'Viva! Volleyball' and knits featuring Bugs Bunny.
On the other side of the coin, you had
Raf Simons' Calvin Klein
channel Western childhood classics, such as Wile E. Coyote and Road Runner knit sweaters. The Dragon Ball Z obsession rolled through the year via
adidas footwear collaborations
, as well as the slew of
Mickey Mouse
and
Sesame Street
projects. With countless Disney classics being remade for 2019, fashion's love affair with childhood nostalgia surely isn't going anywhere.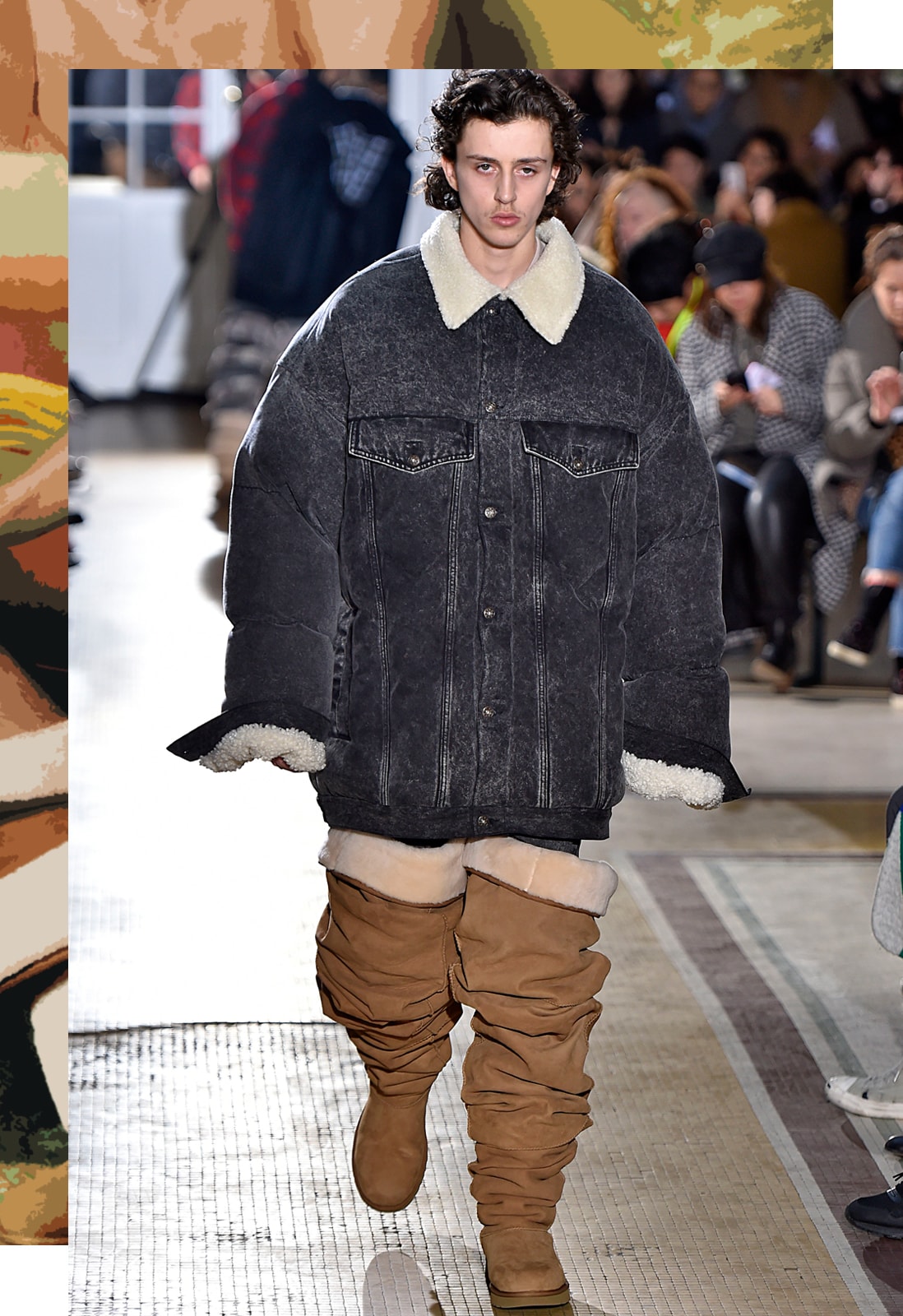 UGGS/CROCS
Last year's chunky sneaker trend just got uglier, and this time it's a familiar type of ugly — Uggs and Crocs. These footwear zeitgeists of the early naughts have returned anew in 2018, taking on exaggerated proportions and almost impractical new heights courtesy of Balenciaga and Y/Project.
Glen Martins of Y/Project resurrected the notorious UGG boot
with thigh-high lengths, shearling trims, and intentional slouching that mimicked the way the boots naturally wear over time. The polarizing winter boots were championed by the likes of Rihanna and Dua Lipa. Elsewhere,
Balenciaga's take on the infamous Croc
silhouette played on the kitschy, mid-2000s fever dream appeal of the rubber mule, offering a bubblegum pink version adorned with a bevy of decorative buttons and a dramatic platform sole.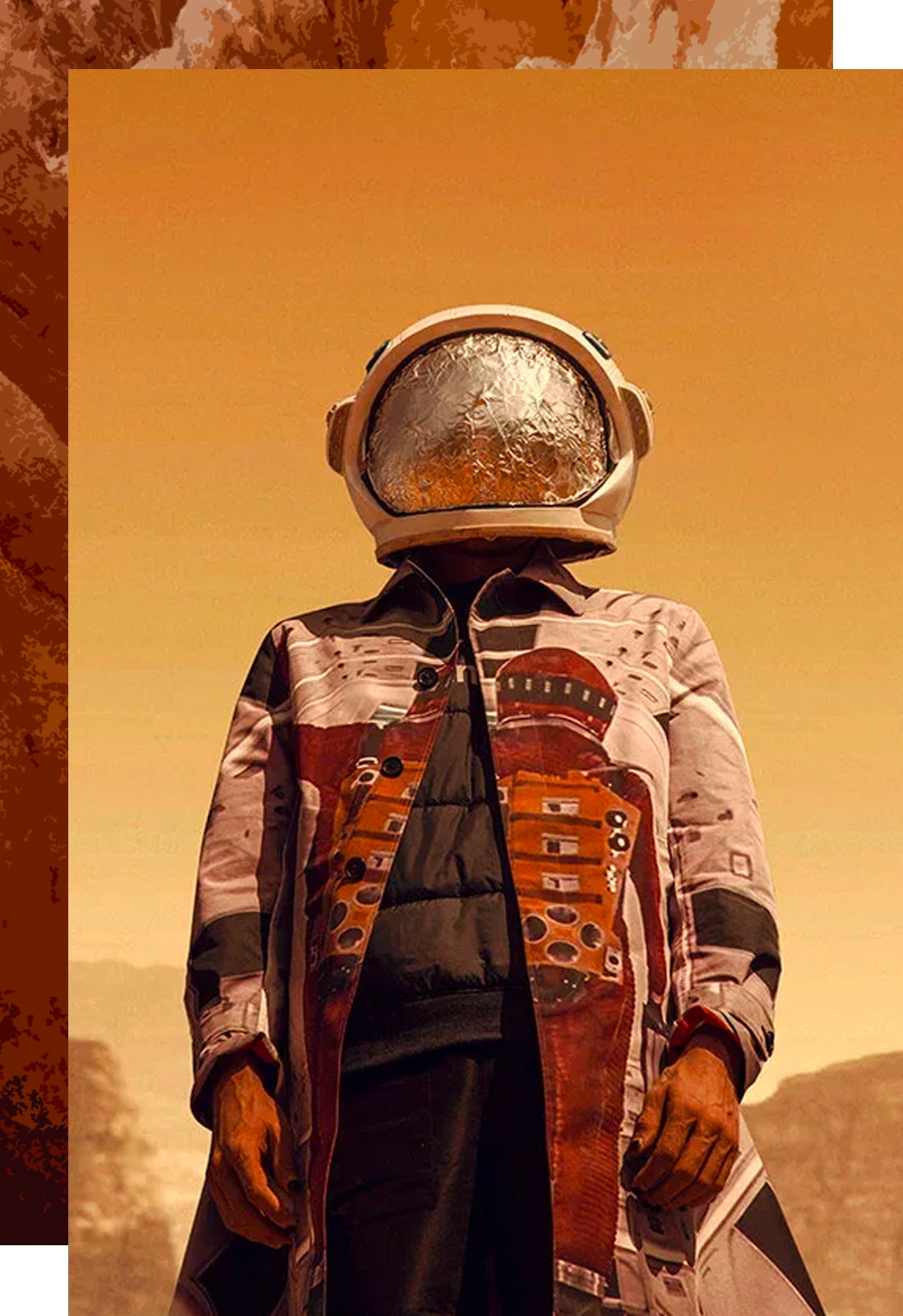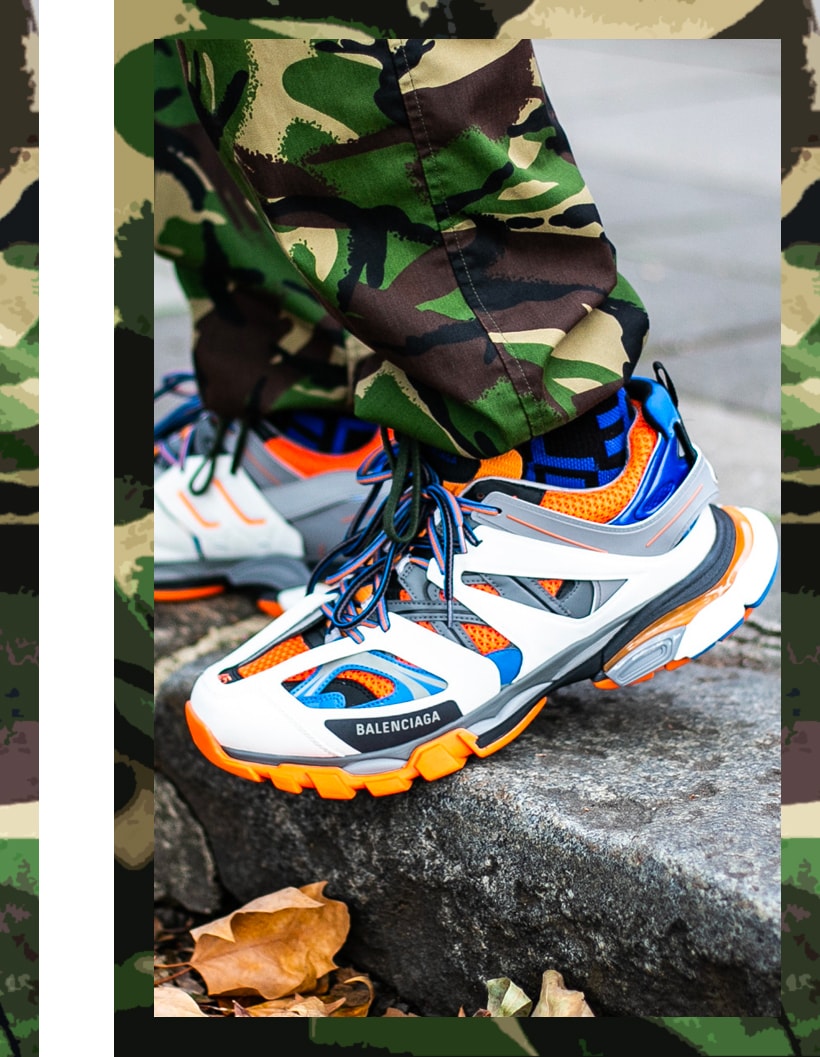 TRAIL SHOES
The trail sneaker is the sequel to last year's pervasive "dad" shoe craze, representing a continuation of the "anti-fashion" normcore codes that hit on '90s nostalgia and rave culture. Offering a slight change from the orthopedic build of chunky zeitgeists such as the
Triple S
and
YEEZY BOOST 700
, the trail sneaker boasts a more streamlined silhouette with premium multi-textile uppers and ultra-technical tooling, often incorporating bungee-cord rope laces, a high-traction rubber sole and eye-grabbing colorways. Original trail sneaker imprints such as
Salomon
and
Nike's ACG
lineage experienced a proper revival, whereas designer fashion labels offered their spin on the hiking theme, such as
Balenciaga's TRACK
sneaker,
ALYX's Roa
collaboration and
Gucci's crystal-encrusted Flashtrek
.
Mr Eazi proposes to Temi Otedola!
For what seemed like a long while, celebrity power couple—Mr Eazi and Temi Otedola—are finally engaged as Oluwatosin Ajibade better known as Mr Eazi pops the heartwarming "Will you be my wife?" question to his girlfriend of 2 years Temiloluwa Otedola and she responded favourably in the affirmative "Yes" tone.
Fashion mogul and Icon Temi Otedola began dating artiste and music label CEO Mr Eazi in the year 2020 and have been living together ever since in their London apartment, sharing intimate moments, even meeting respective family members. This they've both shared in detail on their How Far? With Mr Eazi And Temi Otedola podcast.
Temi announced her engagement by posting the sea-side proposal of Mr Eazi on one knee asking the important question. The video goes by the simple caption of the infinity logo connoting they're both locked in for life.
Congratulations to Temi Otedola and Mr Eazi!
Nicki Minaj agrees "Essence" should be song of the year at the Grammys
American superstar rapper, Nicki Minaj, shares the same sentiments as myriads of Wizkid fans and well-wishers worldwide, in that she concurs to the argument the trendsetting crossover record-breaking single from Wizkid's 2020 released "Made In Lagos" album, Essence should be in the conversation for the coveted "Record of the Year" plaque at this year's Grammy Awards.
Nicki Minaj agrees with Joe Budden that Essense should be Grammy Song Of The Year pic.twitter.com/hvdxQlItod

— King Henry 🥷🏾🛸 (@Kinghenryyyyyy) March 9, 2022
Although "Essence" did not receive the much desired nomination in the category for "Record of the Year" at the 2022 Grammy Awards, it did get a nod for Best Global Music Performance, the first of its kind.
Irrespective of the snub, Nicki whilie on Joe Budden TV (YouTube) as a guest on the special episode tagged A Conversation With Nicki Minaj & Joe Budden agreed with the host (Joe Budden) when he said "We need people on the Grammy board that know that "Essence" was song of the year" with an exclamatory "Right! Right!" response. She even proffered, "We should have our own Grammy Board", in support of many and the popular believe that Black Americans or black artistes in general are always stereotyped to a particular category at the award show, if indeed they made it to the top categories, they barely win; Nicki Minaj does not have a Grammy Award herself and that is still a shock to many, especially when considering her refined catalogue of music.
Pheelz & Buju (BNXN) live the carefree lifestyle on "Finesse"
After much teasing, the anticipated Finesse by Pheelz and Buju (now BNXN) hit DSPs across the globe and just like the teaser gave off, Finesse is a banger! It is produced by young producer under Pheelz's wing known as Miichkel.
On Finesse, Pheelz and Buju live their life to the fullest, the carefree lifestyle is what they desire and they are determined to stay on that track for the time being. "I've been living the fast life but I see it in slow mo / And you see my lifestyle, I got Gs in the turbo / . . . / Bad girl sey she want Netflix & Chill / So I ja ticket give her warning / If you fall in love, girls it's certain / You go chop breakfast, I'm not capping", Pheelz explains on the first verse, even saying love and relationship cannot stop him from living the 'ballers' lifestyle; "I'd be dammed if there's anybody that could be like me / I be like Mo' Salah, coming up the right wing / I cut through your defender, you no need to tell me / I must finesse / And you know sey me I must net", Buju braggingly adds on the second verse, saying he can score any chick that catches his eye and dish her the next minute.
listen to the popular joyous chorus "Ah finesse / If I broke na my business / Ama shana e go bright o / Folake for the nighr o" here or on Apple Music.: