Patoranking talks about music&style as he covers BlackNBold magazine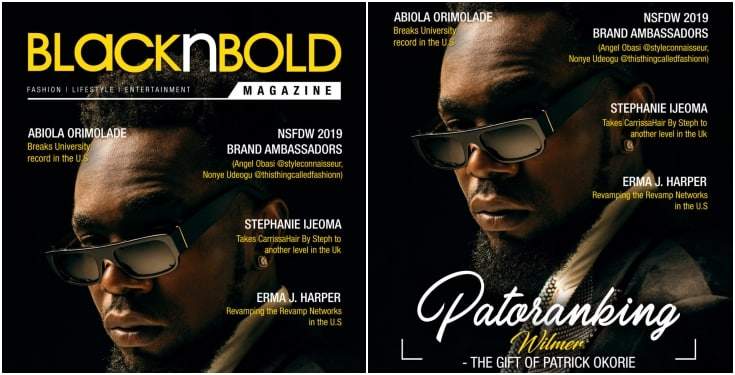 In celebration of the highly anticipated Wilmer album, Nigerian reggae-dancehall singer,
Patoranking covers the May edition of Uk/Nigerian, black inspired publication, BlackNBold magazine. The edition focuses on his journey, his career and more emphasis on Wilmer, his upcoming album.
Patrick Nnaemeka Okorie better known by his stage name Patoranking has released multiple singles and Top hits, including his most recent hit song "confirm" with Davido
Patoranking chats with BlackNBold magazine about his new album named after his daughter "Wilmer" and his thoughts on fashion and style.
How did you come up with your stage name?'
My name is Patrick so Pato was coined from it and Ranking came as the word implies. When you are ranked, it holds relevance. Hence Pato-Ranking
What do you enjoy most about being a musician? What do you hate most?
Definitely love the creation of the music, how i feel, the freedom, that spiritual saturation of sounds that you might call inspiration. Hate is a strong word, i think its more of discomfort. I feel slightly uncomfortable with the lack of privacy but i guess it comes with the job.
What has kept you going over the past years?
My hunger to learn, my anticipation to win and my drive to impact. I represent a whole race, a whole generation and music has given me a voice, there is a responsibility on my shoulders, it is an honour! Also what has kept me going is the Love for what I do and those I do it for.
If you could change anything about the industry, what would it be?'
The mindset that talent is everything and solely needed to be an artist or musician
Tell us about the Wilmer album and why did you choose to name this one after your daughter?
Apart from my daughter's name being Wilmer, Wilmer means "Famous" in German and that is a great follow up to my 1st Album – God over Everything. It summarizes my journey (which isn't over). I prophesied in Alubarika, put out a body of work by putting God over Everything and now I'm famous (Wilmer).
How was it like working with Alexander Julian on the Lenge Lenge photo shoot?
It was humbling, as you know he is an amazing creative and i love the outcome of our work together.
Which is your most favourite track off the Album and what makes it dear to you?
It's difficult to choose as they are all my faves and they tell different tales that are super dear to me. My inspiration on this album is far fetched…deeply felt.
In the Lenge Lenge video what inspired the afrobeat theme?ALSO READ: Bobrisky drags Funke Adesiyan for shading Tonto Dikeh
Afrobeat is ours and the Late Great Fela inspired it. However with the visuals, it was important to portray that he was (we also are) Afrocentric yet fashionable. Our fabrics and designs are globally embraced and this song and video was a union of both our sound and style which was part of the uniqueness of Ba ami.
Mention that one international collaboration you are still looking forward to and why?
There's quite a number of them lol. Play my part with securing the bridge that takes Africa to the world.
Any music tour to Europe and North America anytime soon?
Definitely! I will be taking the music to the fans across Europe, Canada and the US very soon.
What is style to you?
Style is a way of life. It's what makes me unique fashionably and otherwise. Sometimes it can be paid for but true style cannot be bought. You can be taught and thereby adapt or you're born with it.
There has been a change in your fashion style over the time, what has inspired your change in style
Change is the only constant thing in life…i like to call it growth. My growth in style is inspired by time and trends, change in taste and a bit of influence from my adventures along with some acquired tastes and habits. I am loving every bit of it.
What is the one accessory that you cannot leave the house without?
My Shades… I also love sunglasses in different designs.
What item in your closet do you wear the most?
Face caps. I have a lot of them.
On what do you spend the most: clothes, accessories, perfumes, underwear or anything else?
I spend the most on my craft. Almost all of my earnings are reinvested into my music. I am presently an Indi artist and i fund my music.
Do you have any plans of diversifying into the fashion industry, maybe start your own fashion line or work on collaborations with major fashion brands?
Already in the works. Watch out for it!
What do you do when not working?
I love to play soccer.
What is the best advice you've been given?
Don't believe the hype. It depends on how you decide to see it.
Mr Eazi proposes to Temi Otedola!
For what seemed like a long while, celebrity power couple—Mr Eazi and Temi Otedola—are finally engaged as Oluwatosin Ajibade better known as Mr Eazi pops the heartwarming "Will you be my wife?" question to his girlfriend of 2 years Temiloluwa Otedola and she responded favourably in the affirmative "Yes" tone.
Fashion mogul and Icon Temi Otedola began dating artiste and music label CEO Mr Eazi in the year 2020 and have been living together ever since in their London apartment, sharing intimate moments, even meeting respective family members. This they've both shared in detail on their How Far? With Mr Eazi And Temi Otedola podcast.
Temi announced her engagement by posting the sea-side proposal of Mr Eazi on one knee asking the important question. The video goes by the simple caption of the infinity logo connoting they're both locked in for life.
Congratulations to Temi Otedola and Mr Eazi!
Nicki Minaj agrees "Essence" should be song of the year at the Grammys
American superstar rapper, Nicki Minaj, shares the same sentiments as myriads of Wizkid fans and well-wishers worldwide, in that she concurs to the argument the trendsetting crossover record-breaking single from Wizkid's 2020 released "Made In Lagos" album, Essence should be in the conversation for the coveted "Record of the Year" plaque at this year's Grammy Awards.
Nicki Minaj agrees with Joe Budden that Essense should be Grammy Song Of The Year pic.twitter.com/hvdxQlItod

— King Henry 🥷🏾🛸 (@Kinghenryyyyyy) March 9, 2022
Although "Essence" did not receive the much desired nomination in the category for "Record of the Year" at the 2022 Grammy Awards, it did get a nod for Best Global Music Performance, the first of its kind.
Irrespective of the snub, Nicki whilie on Joe Budden TV (YouTube) as a guest on the special episode tagged A Conversation With Nicki Minaj & Joe Budden agreed with the host (Joe Budden) when he said "We need people on the Grammy board that know that "Essence" was song of the year" with an exclamatory "Right! Right!" response. She even proffered, "We should have our own Grammy Board", in support of many and the popular believe that Black Americans or black artistes in general are always stereotyped to a particular category at the award show, if indeed they made it to the top categories, they barely win; Nicki Minaj does not have a Grammy Award herself and that is still a shock to many, especially when considering her refined catalogue of music.
Pheelz & Buju (BNXN) live the carefree lifestyle on "Finesse"
After much teasing, the anticipated Finesse by Pheelz and Buju (now BNXN) hit DSPs across the globe and just like the teaser gave off, Finesse is a banger! It is produced by young producer under Pheelz's wing known as Miichkel.
On Finesse, Pheelz and Buju live their life to the fullest, the carefree lifestyle is what they desire and they are determined to stay on that track for the time being. "I've been living the fast life but I see it in slow mo / And you see my lifestyle, I got Gs in the turbo / . . . / Bad girl sey she want Netflix & Chill / So I ja ticket give her warning / If you fall in love, girls it's certain / You go chop breakfast, I'm not capping", Pheelz explains on the first verse, even saying love and relationship cannot stop him from living the 'ballers' lifestyle; "I'd be dammed if there's anybody that could be like me / I be like Mo' Salah, coming up the right wing / I cut through your defender, you no need to tell me / I must finesse / And you know sey me I must net", Buju braggingly adds on the second verse, saying he can score any chick that catches his eye and dish her the next minute.
listen to the popular joyous chorus "Ah finesse / If I broke na my business / Ama shana e go bright o / Folake for the nighr o" here or on Apple Music.: