Nigerian teenager breaks American school's 125-year old record as she becomes the first black valedictorian
Tobechukwu "Tobi" Phillips graduates at the top of her class with a 6.9 cumulative GPA.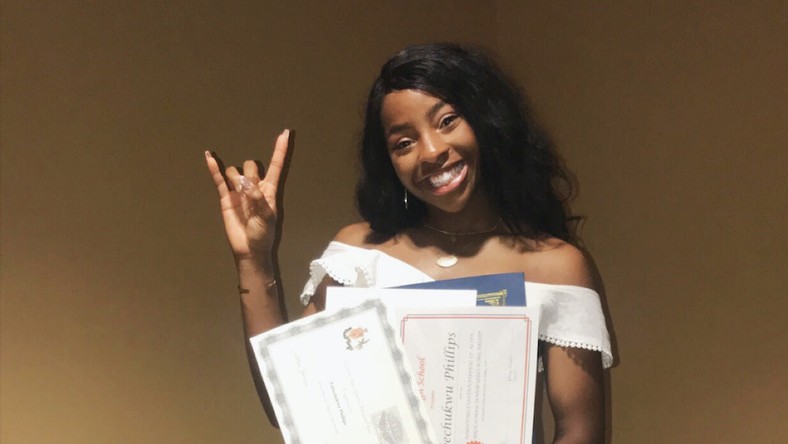 Tobechukwu "Tobi" Phillips sets a new record in an American High School in Texas (becauseofthemwecan)
A Nigerian teenager named Tobechukwu "Tobi" Phillips has just made history at Alvin High School in Texas.
She did this by becoming the school's first
Black valedictorian 125 years after it was established in 1894. This
incredible feat takes place 54 years after the school integrated with
African-American students in 1965.
According to an online platform called Because Of Them We Can, the school currently has 86 black students out of approximately 2,800 students.
Phillips graduates with a 6.9 cumulative GPA on a 4.0 scale, which she earned by taking AP courses along with her electives.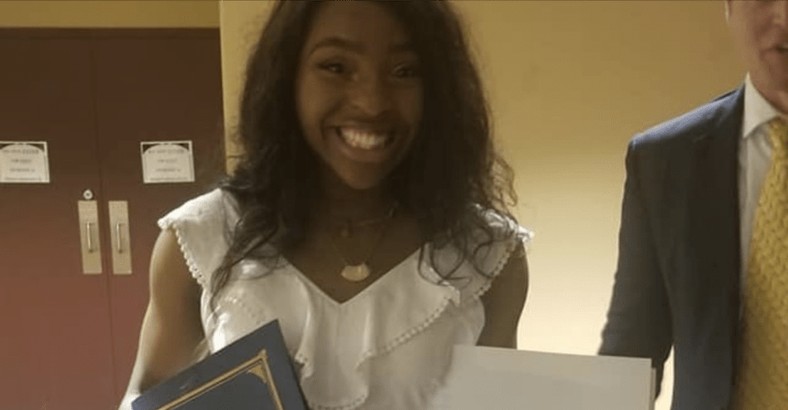 Tobechukwu "Tobi" Phillips graduates at the top of her class (becauseofthemwecan)

She got to the top of her class by getting all
A's throughout her four years in school. This is in addition to her
other interests.
This exceptional teenager is also a Sunday
school teacher, a member of the Rho Kappa Honor Society, president of
the National Honor Society, an AP ambassador, a decorated volleyball and
track athlete.
Her track coach Jennifer McGraw describes her as "an excellent student from a loving family."
Explaining how she was able to get excellent grades and keep up with the rest of her interests, she said, "maintaining
the highest GPA in my class is a difficult task. It truly takes time
management but more importantly acknowledging what you do it for. I know
that I am no longer just representing myself."
Phillips also offered some advice to black students who want to excel in school.
In her words, "My biggest advice to other
scholars of colour is to truly adopt the mindset of Rosa Parks - 'No.'
Do not conform to the stereotypes that have held us under thumbs for so
long. Do not be discouraged when someone speaks out against you, simply
allow what they say to fuel your fire. But more than anything, do not
remain tight-lipped. Stand up for what you believe in and take it upon
yourself to be the change you've always wanted. Say 'No' to the ways of
the world and stick out."
She has received the Full-Ride Forty Acre Scholarship to attend the Nursing School at the University of Texas in Austin. Out of 4,000 applicants, only 16 including Phillips, were chosen for this prestigious scholarship.
Her dream is to become a pediatric nurse practitioner and have her own clinic someday.
Wizkid is Africa's Apple Music Artist of the Year award recipient for 2021
Wizkid (sobriquet Big Wiz or StarBoy) receives the honour as Apple Music Artist of the Year (Africa) for 2021. The annual award held by the premier streaming platform praises individual artites for having a stellar year on its music platform both through streams and culturally.
On Wizkid winning, an excerpt from Apple Music reads: " In October 2020, he released "Made in Lagos," his critically acclaimed and most commercially successful album, which included his hit song "Essence," a track that gained 125 million plays on Apple Music and over 2.8 million Shazams. This past year, he's been the most streamed African artist on the continent on Apple Music and ranked on the Daily Top 100 charts in 60 countries, in addition to his monthly plays on Apple Music growing by more than 250 percent outside of Africa."
"Thank you to Apple Music for this award", Wizkid said, continuing, "It's a blessing to get to do what I do, and I'm proud to be representing for Africa.", Ayodeji "Wizkid" Balogun says in thank you speech. The Apple Music Award, the third annual series will air on Apple Music and Apple TV starting Tuesday, December 7, 2021.
Dj Wapsam takes his self named clothing line up a notch, launches online storefront
During the pandemic, Dj Wapsam like everyone else was scouting for opportunities online, to get his DJing skills to more people, countless audiomack mixes, whatsApp broadcast messages until he found the right platform, Tiktok roughly six months later, his strategy was simple yet hard, create a catchy adlib, the resonate a phrase that a listener won't easily forget, the uptrend started with Ibon "wonti yi ibon, esare o esare o" shortly after the 1 mins videos was everyone, people reposting, apart from his Djing skills, one thing Wapsam didn't let go is his clothing line! Shopwapsam now!
See how this 24 years old Nigerian is harnessing the power of WhatsApp to create a community of super cool Gen Z
One of the greatest way to build wealth is through adding value to ones immediate community, even startup fundraising have a family & friends round, this is because unlike institutional investors, these people are ready to carry you when you fail, this is what Akinlusi Funso Oluwagbenga, 24 is leveraging to build a brand, in Western Africa, Nigeria to be precise, WhatsApp TV is thing, people use there large audiences, status views to bill prospective customers for ads placement but there is a downside to the model, unverified news, misinformation, nudity, most importantly non-active viewers, for most 5000 views only 100 are engaging in post, these are the challenges making the once shining means of social influencing die down until January last year when Funso started his Captain Awesome TV, the Nigerian influencer has always referred to himself as a social media influencer not just a WhatsApp TV admin, but this wasn't what brought the distinction, it was the way be carefully built his audience from zero to close to 10k active status views to his highly curated itinerary of events from music and entertainment gist to politics and football commentary, and highly engaging programs around topics like sex education, relation tips to spear heading campaigns which say the TV community give a huge amount of money to the less privileged etc.
When asked why he is being thorough in an industry people don't really appreciate he said "everyone project there non existent, advanced version on Instagram, fake there level of intellect on twitter, but WhatsApp is where you really know people because it's like there safe and private space, where no one is really watching, so people's opinion about a brand or service in the space tends to be from an honest point of view not clout for retweets or likes"