King of Swaziland, the poorest African country, reportedly buys 19 Rolls Royce for his 15 wives and a customised Rolls Royce Cullinan SUV for himself (photos)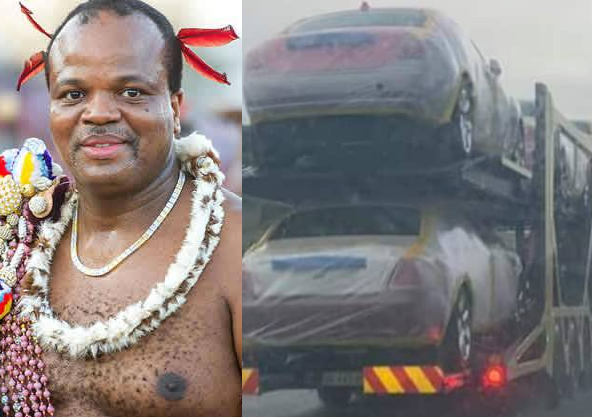 King of Swaziland, Mswati III Mswati has allegedly bought 19 Rolls Royce vehicles for his 15 wives and a customised Rolls Royce Cullinan SUV for himself.
Unconfirmed Twitter reports claim "4 trucks loaded with 20 Rolls Royce and one Rolls Royce Cullinan" were delivered to the small African country.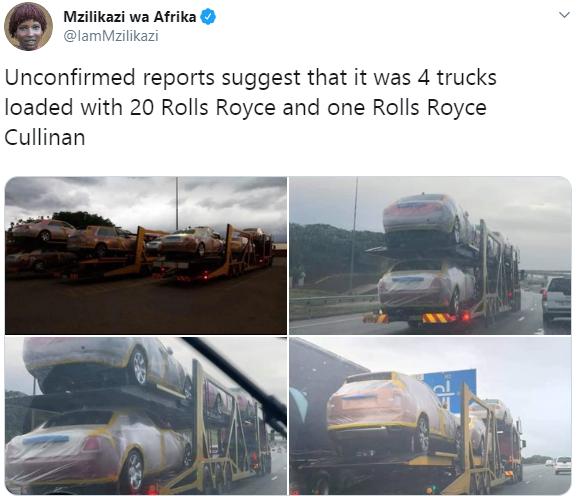 Of all the cars delivered, each of his wives gets at least one.
A video shared online purportedly shows the cars being driven out from the point of delivery to be delivered to the new owners.
The video was shared by investigative journalist Mzilikazi wa Afrika.
Mzilikazi wa Afrika's post read: "HEARTBREAKING NEWS: Amidst all the economic challenges eSwazitini, King Mswati III yesterday decided to bless his wives with very expensive wheels."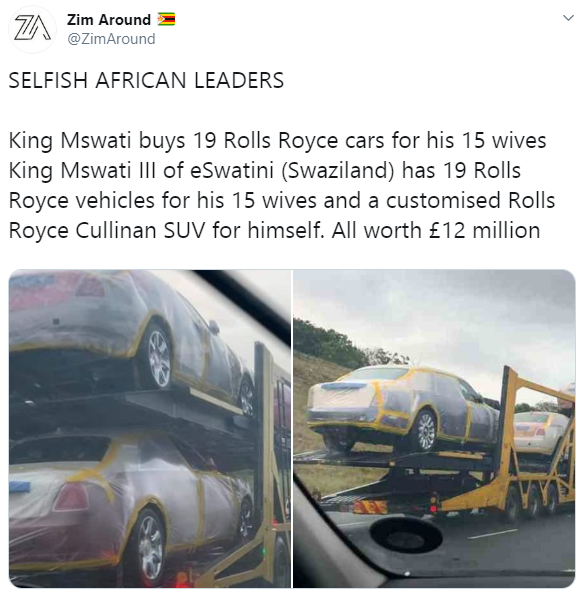 The Citezen reported that a source, from eSwatini's Ministry of Information Communications and Technology, confirmed that the King had indeed bought the vehicles. The source reportedly said the vehicles arrived on Tuesday but was unsure on the exact number of the cars.
Just last week violent clashes broke out eSwatini with government workers complaining about the high living costs in the monarch. News24 reported that the protests were in relation to the workers accusing King Mswati III of draining public coffers at the expense of his subjects.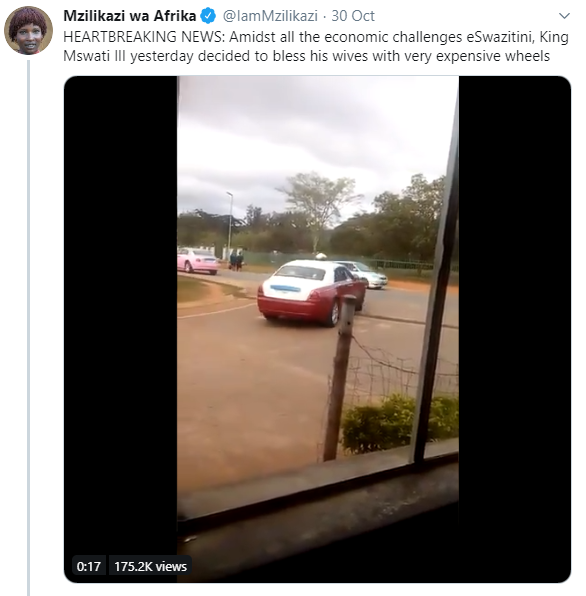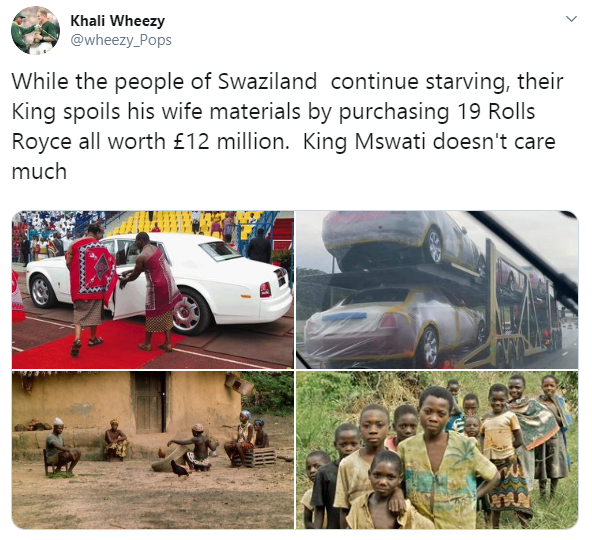 Mr Eazi proposes to Temi Otedola!
For what seemed like a long while, celebrity power couple—Mr Eazi and Temi Otedola—are finally engaged as Oluwatosin Ajibade better known as Mr Eazi pops the heartwarming "Will you be my wife?" question to his girlfriend of 2 years Temiloluwa Otedola and she responded favourably in the affirmative "Yes" tone.
Fashion mogul and Icon Temi Otedola began dating artiste and music label CEO Mr Eazi in the year 2020 and have been living together ever since in their London apartment, sharing intimate moments, even meeting respective family members. This they've both shared in detail on their How Far? With Mr Eazi And Temi Otedola podcast.
Temi announced her engagement by posting the sea-side proposal of Mr Eazi on one knee asking the important question. The video goes by the simple caption of the infinity logo connoting they're both locked in for life.
Congratulations to Temi Otedola and Mr Eazi!
Nicki Minaj agrees "Essence" should be song of the year at the Grammys
American superstar rapper, Nicki Minaj, shares the same sentiments as myriads of Wizkid fans and well-wishers worldwide, in that she concurs to the argument the trendsetting crossover record-breaking single from Wizkid's 2020 released "Made In Lagos" album, Essence should be in the conversation for the coveted "Record of the Year" plaque at this year's Grammy Awards.
Nicki Minaj agrees with Joe Budden that Essense should be Grammy Song Of The Year pic.twitter.com/hvdxQlItod

— King Henry 🥷🏾🛸 (@Kinghenryyyyyy) March 9, 2022
Although "Essence" did not receive the much desired nomination in the category for "Record of the Year" at the 2022 Grammy Awards, it did get a nod for Best Global Music Performance, the first of its kind.
Irrespective of the snub, Nicki whilie on Joe Budden TV (YouTube) as a guest on the special episode tagged A Conversation With Nicki Minaj & Joe Budden agreed with the host (Joe Budden) when he said "We need people on the Grammy board that know that "Essence" was song of the year" with an exclamatory "Right! Right!" response. She even proffered, "We should have our own Grammy Board", in support of many and the popular believe that Black Americans or black artistes in general are always stereotyped to a particular category at the award show, if indeed they made it to the top categories, they barely win; Nicki Minaj does not have a Grammy Award herself and that is still a shock to many, especially when considering her refined catalogue of music.
Pheelz & Buju (BNXN) live the carefree lifestyle on "Finesse"
After much teasing, the anticipated Finesse by Pheelz and Buju (now BNXN) hit DSPs across the globe and just like the teaser gave off, Finesse is a banger! It is produced by young producer under Pheelz's wing known as Miichkel.
On Finesse, Pheelz and Buju live their life to the fullest, the carefree lifestyle is what they desire and they are determined to stay on that track for the time being. "I've been living the fast life but I see it in slow mo / And you see my lifestyle, I got Gs in the turbo / . . . / Bad girl sey she want Netflix & Chill / So I ja ticket give her warning / If you fall in love, girls it's certain / You go chop breakfast, I'm not capping", Pheelz explains on the first verse, even saying love and relationship cannot stop him from living the 'ballers' lifestyle; "I'd be dammed if there's anybody that could be like me / I be like Mo' Salah, coming up the right wing / I cut through your defender, you no need to tell me / I must finesse / And you know sey me I must net", Buju braggingly adds on the second verse, saying he can score any chick that catches his eye and dish her the next minute.
listen to the popular joyous chorus "Ah finesse / If I broke na my business / Ama shana e go bright o / Folake for the nighr o" here or on Apple Music.: