Coronavirus: El-Rufai extends Kaduna lockdown by two weeks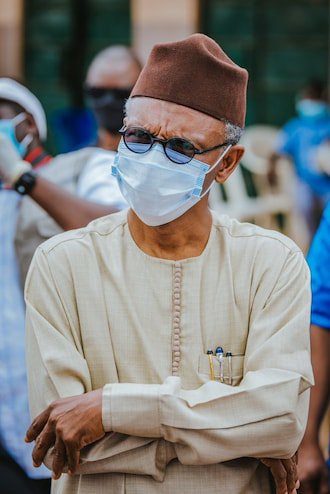 Governor Nasir Ahmad El-Rufai has extended the coronavirus lockdown in Kaduna state by two weeks, following the expiration of the state's lockdown which has spanned 60 days.
The Nation reports that the Kaduna state governor spoke on Tuesday, May 26, through his deputy, Dr Hadiza Sabuwa Balarabe in a statewide broadcast.
It was gathered that El-Rufai said the state government has reviewed the Quarantine Orders and has approved the recommendation to extend the partial lockdown regulations for two weeks, with adjustments to permit the reopening of certain sectors.He explained that the extension was intended to preserve the state's ability to protect citizens, empower them to lead the fight against Covid-19 and make necessary adjustments to the partial lockdown to permit the safe resumption of the pursuit of livelihoods in more sectors.
According to Balarabe, schools, places of worship and markets will remain closed under the adjusted orders. She, however, said efforts will be kickstarted to meet relevant stakeholders to discuss how to reopen the sectors.
She urged the residents to comply with all relevant preventive measures, warning that violation of the guidelines will compel the government to reimpose restrictions.
The deputy governor added that movement restriction will be relaxed on Wednesday, May 27 and Thursday, May 28.
The revised regulations will be effective from Monday, June 1, with a three-day window given o residents every week to shop for food and other essentials.
"Until otherwise stated, the lockdown-free days are Tuesday, Wednesday and Thursday. Temporary neighbourhood markets will continue to operate from 10am to 4pm on these three days, but citizens can move from 6am to 6pm on these lockdown-free days. Informal markets are not allowed and those flouting regulations by turning streets into markets are advised to stop," she said.
"The adjusted orders also expand the ability of citizens to resume the pursuit of livelihoods, in permitted sectors subject to compliance with health and safety protocols, including physical distancing. Private sector firms that meet these requirements will also operate on Tuesdays, Wednesdays and Thursdays. This window also allows vulcanisers, welders, mechanics and providers of similar services to operate on the same days."
The Kaduna deputy governor noted that the ban on interstate and intercity travel remains effective, adding that the nighttime curfew that has been enforced across the state still remains, from 6pm to 6am.
"Restaurants will be allowed to open strictly to offer takeaway services. However, bars, sporting venues and event centres remain closed as are hotels that have not specifically licensed as essential service providers during this period," she added.
FG announces zamfara a restricted air space
FG announces Zamfara a restricted air space, orders huge military deployment.
The Nigerian government has forced a restricted air space in Zamfara as a feature of endeavors to handle the security challenges in the state.
As indicated by The Cable, the National Security Adviser (NSA), Babagana Monguno uncovered on Tuesday, March 2, that President Muhammadu Buhari has restricted mining exercises in Zamfara to stop the rising instability.
He said the president had requested the service of protection to convey a huge military and insight resources for reestablish routineness in the state. The Nation detailed that they requested the military to recover all regions heavily influenced by desperados, radicals.
Monguno said:
"We can no longer avoid to lose lives while operating within the legalities. We are not going to blackmailed . The government has the responsibility to assert its will.
"Citizens can reside wherever they want to reside . Anybody who is a criminal should be brought to book."
The security adviser stated that the president also warned against ethnic profiling.Zamfara state has recorded a few assaults by bandits.The new incident included the grabbing of many young ladies from the Government Girls Secondary School in Jangebe, Talatu-Mafara nearby government zone of the state.
Igboho promises a protest if his accounts are not released
Self-acclaimed political dissident, Mr. Sunday Adeyemo, otherwise called Sunday Igboho, on Tuesday, blamed the Federal Government for freezing his financial assets, following his assault on the fulani herdsmen in Oyo State.
Igboho, who addressed Vanguard, affirmed that all his financial asset have been frozen by the Federal Government since certain individuals were gathering donations.
Nonetheless, Igboho said he had no hands in the said donations, cautioning that his records should be released to dodge protest by young people across the South-West area.
His words: "They have frozen my bank accounts because I am fighting a just course.
I know Yoruba people are behind me."I will not relent. I must achieve my aims by putting an end to criminalities in Yorubaland.
"If they refuse to release my accounts, there will be serious protests across the South-West.
"Yes, the Yoruba are living in fear. They are afraid that the killer-herdsmen might attack them.
Adamu enrolled in the Police Force on February 2, 1986.
The IGP who will turn 60 on September 17, was appointed IGP in January 2019. He has gone through two years in office.
Three Deputy Inspectors-General of Police (DIGs) and 10 Assistant Inspectors-General of Police (AIGs) are additionally due for retirement with him today.
It is accepted that there is a mission to broaden Adamu's residency.
However, some have contended against such expansion, since it would negate the arrangements of the Police Act 2020 that fixes the retirement of cops at 60 years old or 35 years of administration.
Section 18(8) of the new Act states: "Every police officer shall, on recruitment or appointment, serve in the Nigeria Police Force for 35 years or until the age of 60 years, whichever is earlier."
The Act provides for a tenure of four years for the Inspector General of Police.
Section 7, subsection 2 of the Act provides that: "The person to be appointed as Inspector General of Police shall be a senior police officer not below the rank of Assistant Inspector General of Police with the requisite academic qualification of not less than a first degree or its equivalent, in addition to professional or management experience."