Canada budgets $902m to stop thousands of Nigerian border-crossers, others
The Canadian government has budgeted the sum of $902
million, over a period of five years, to arrest the surge of migrants
who illegally cross into the country from the United States of America.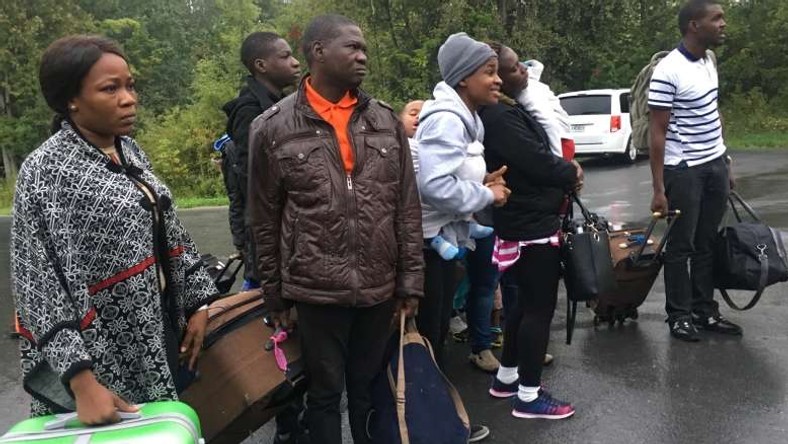 Asylum
seekers who are steps away from Canada listen as the Royal Canadian
Mounted Police tells them they will be arrested as they cross over from
New York state, north of Plattsburgh
Nigerians make up
a sizeable majority
of thousands of people who have illegally crossed into Canada from the U.S. to file refugee claims since January 2017.
In the annual budget that was presented by Canada's Finance Minister, Bill Morneau,
to the House of Commons on Tuesday, March 19, 2019, $902 million
(C$1.18 billion) will be spent over five years, beginning in the 2019-20
fiscal year, on border security and modernisation, and for the asylum
system.
"To ensure that our asylum system is fair
and effective – supporting Canada's reputation as a country that is
welcoming as well as governed by the rule of law – we will invest in a
comprehensive Border Enforcement Strategy, to better detect and
intercept people who cross into Canada irregularly and those that
attempt to exploit our immigration system," he said.

Canadian Finance Minister, Bill Morneau [Toronto Star]

According to the budget document, the comprehensive Border Enforcement Strategy will help to effectively "detect and intercept individuals who cross Canadian borders irregularly and who try to exploit Canada's immigration system".
"Failed asylum claimants who entered into
Canada at irregular crossings or between official ports of entry will
also be removed on a priority basis," the document reads.
To do this, additional resources are to be
provided to strengthen processes at the border, and accelerate the
processing of claims and removals. This, according to the government, is
to ensure the asylum system remains available to those genuinely in
need of refugee protection.
"New resources for immigration and refugee
legal aid will build on previous investments, supporting the delivery
of legal services, while new Federal Court judicial positions will help
ensure efficient and timely processing of asylum claimants seeking
judicial review.
"To do this, the Government intends to introduce amendments to the Federal Courts Act to create three new judicial positions," the document reads.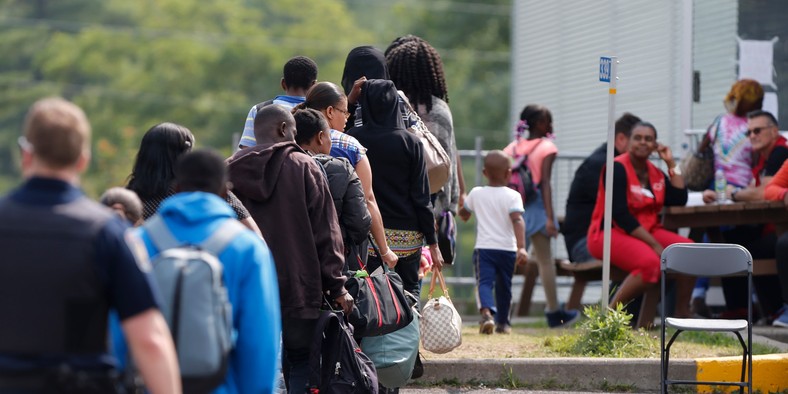 A group of asylum seekers wait to be processed after being
escorted from their tent encampment to the Canada Border Services in
Lacolle, Quebec, Canada August 11, 2017.

The budget also seeks to support public
awareness activities that will help vulnerable newcomers and applicants
protect themselves against fraudulent immigration consultants. This will
be done by improving oversight of immigration consultants and
strengthening compliance and enforcement measures.
To implement the measures that'll more
effectively manage, discourage and prevent irregular migration, the
Canadian government seeks to introduce legislation and propose
amendments to the Immigration and Refugee Protection Act and the
Citizenship Act.
Nigerians are some of the most frequent border-crossers into Canada
The influx of migrants into Canada over the
past two has been a political liability for the liberal government
headed by Prime Minister Justin Trudeau.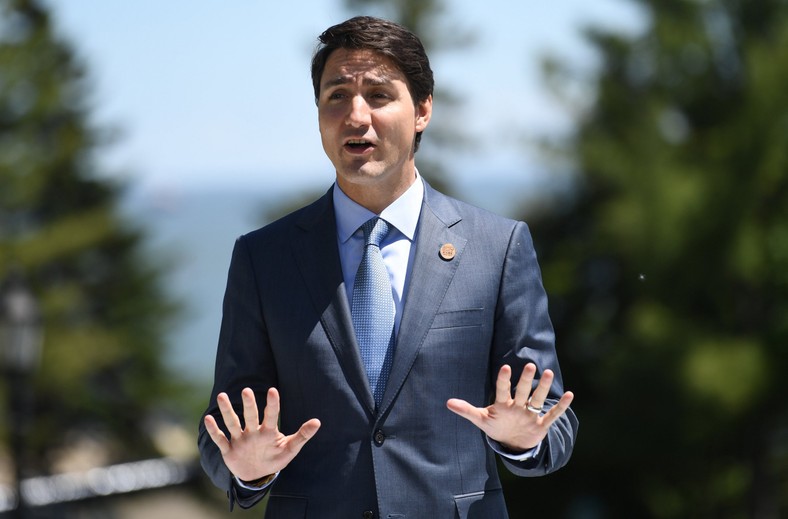 Canadian PM, Justin Trudeau, has faced constant criticisms from
Conservatives about his government's handling of immigration

A December 2018 report revealed that each
asylum seeker crossing at irregular border points from the U.S. costs
Canada an average $14,321, with the number of border-crossers between
April 2017 and March 2018 costing various federal bodies $340 million to
process. The report also projected that the individual cost will rise
to $16,666 by March 2020.
The increased wave of illegal immigrants into Canada kicked off after U.S. president, Donald Trump, threatened in 2017 to review the Temporary Protected Status of thousands of foreign nationals in his country.
Many of the Nigerian asylum claimants who
crossed from the U.S. into Canada through unrecognised entry points were
observed to have arrived bearing valid U.S. visas after having spent
very little time in the States.

Asylum seekers walk down Roxham Road to cross into Quebec at the U.S.-Canada border in 2017.

Between June 2017 and May 2018, Canadian
authorities intercepted more than 7,600 Nigerian asylum seekers with 81%
of them having valid U.S. non-immigrant visas in their possession.
The trend of illegal border-crossers from
Nigeria worried the Canadian government so much that two officials were
sent to Lagos in 2018 to work directly with their counterparts in the
U.S. visa office to collaborate on how to lower the number of migrants who eventually end up making asylum claims in Canada.
More recently, the Canadian government adopted a new stringent policy to deal with asylum seekers who illegally cross into the country from the U.S.
The Canada Border Services Agency (CBSA), the agency responsible for deportations, disclosed that it now classifies border-crossers as a top deportation priority.
This means quicker processing and deportation
of people who cross the border unlike in the past when claimants could
live in Canada for years while their applications were processed.
Six lawyers told Reuters that the new policy
had already led to accelerated hearings, scheduled in blocs, with a
focus on cases involving claimants of Nigerian and Haitian origins.
Mr Eazi proposes to Temi Otedola!
For what seemed like a long while, celebrity power couple—Mr Eazi and Temi Otedola—are finally engaged as Oluwatosin Ajibade better known as Mr Eazi pops the heartwarming "Will you be my wife?" question to his girlfriend of 2 years Temiloluwa Otedola and she responded favourably in the affirmative "Yes" tone.
Fashion mogul and Icon Temi Otedola began dating artiste and music label CEO Mr Eazi in the year 2020 and have been living together ever since in their London apartment, sharing intimate moments, even meeting respective family members. This they've both shared in detail on their How Far? With Mr Eazi And Temi Otedola podcast.
Temi announced her engagement by posting the sea-side proposal of Mr Eazi on one knee asking the important question. The video goes by the simple caption of the infinity logo connoting they're both locked in for life.
Congratulations to Temi Otedola and Mr Eazi!
Nicki Minaj agrees "Essence" should be song of the year at the Grammys
American superstar rapper, Nicki Minaj, shares the same sentiments as myriads of Wizkid fans and well-wishers worldwide, in that she concurs to the argument the trendsetting crossover record-breaking single from Wizkid's 2020 released "Made In Lagos" album, Essence should be in the conversation for the coveted "Record of the Year" plaque at this year's Grammy Awards.
Nicki Minaj agrees with Joe Budden that Essense should be Grammy Song Of The Year pic.twitter.com/hvdxQlItod

— King Henry 🥷🏾🛸 (@Kinghenryyyyyy) March 9, 2022
Although "Essence" did not receive the much desired nomination in the category for "Record of the Year" at the 2022 Grammy Awards, it did get a nod for Best Global Music Performance, the first of its kind.
Irrespective of the snub, Nicki whilie on Joe Budden TV (YouTube) as a guest on the special episode tagged A Conversation With Nicki Minaj & Joe Budden agreed with the host (Joe Budden) when he said "We need people on the Grammy board that know that "Essence" was song of the year" with an exclamatory "Right! Right!" response. She even proffered, "We should have our own Grammy Board", in support of many and the popular believe that Black Americans or black artistes in general are always stereotyped to a particular category at the award show, if indeed they made it to the top categories, they barely win; Nicki Minaj does not have a Grammy Award herself and that is still a shock to many, especially when considering her refined catalogue of music.
Pheelz & Buju (BNXN) live the carefree lifestyle on "Finesse"
After much teasing, the anticipated Finesse by Pheelz and Buju (now BNXN) hit DSPs across the globe and just like the teaser gave off, Finesse is a banger! It is produced by young producer under Pheelz's wing known as Miichkel.
On Finesse, Pheelz and Buju live their life to the fullest, the carefree lifestyle is what they desire and they are determined to stay on that track for the time being. "I've been living the fast life but I see it in slow mo / And you see my lifestyle, I got Gs in the turbo / . . . / Bad girl sey she want Netflix & Chill / So I ja ticket give her warning / If you fall in love, girls it's certain / You go chop breakfast, I'm not capping", Pheelz explains on the first verse, even saying love and relationship cannot stop him from living the 'ballers' lifestyle; "I'd be dammed if there's anybody that could be like me / I be like Mo' Salah, coming up the right wing / I cut through your defender, you no need to tell me / I must finesse / And you know sey me I must net", Buju braggingly adds on the second verse, saying he can score any chick that catches his eye and dish her the next minute.
listen to the popular joyous chorus "Ah finesse / If I broke na my business / Ama shana e go bright o / Folake for the nighr o" here or on Apple Music.: