Adesua Etomi is starring in Malika: Warrior Queen , a Nigerian animated series
The talented actress will be playing the lead role in the long-awaited animated pilot.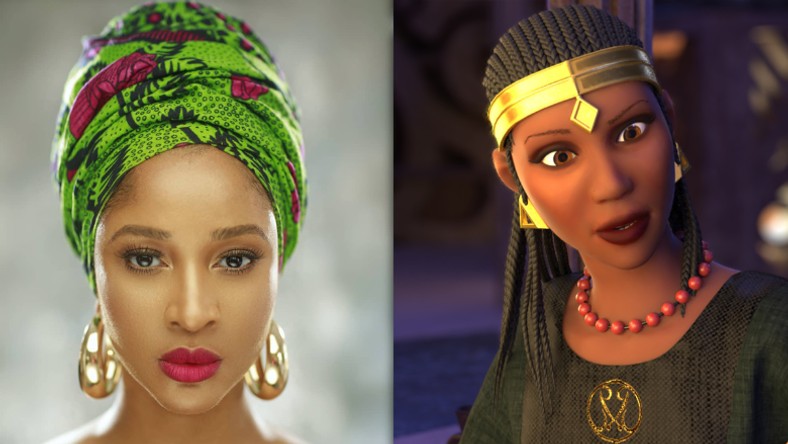 Adesua Etomi will be play the lead role in the animated series – 'Malika: Warrior Queen'(YouNeekStudios)
Nigerian actress Adesua Etomi is set to voice the lead role in 'Malika: Warrior Queen'.
Written by Roye Okupe, the animated series tells the story of the warrior queen and military commander in pre-colonial Africa.
The Nigerian-born animator and founder of YouNeek Studios recently shared the news of Etomi's involvement in an exclusive interview with Okay Africa.
Explaining how it happened, he said, "I
have to give credit again to Niyi, who's also the director of the
highest grossing movie in Lagos - The Wedding Party Two…. So we
discussed about who we would like to bring to this, and Adesua was the
first person I had on my mind to voice it. Not only is she a huge star,
she's super talented. After the both of us went through the proper
channels to present the idea to her, she basically said it would be a
dream for her to do it."
Okupe continued, "It was in October when
she came on board after the right terms were established. A lot of
credit also goes to the material because she was able to see some of the
stuff we've done with Malika and the track record we've built with the
graphic novels. And I can't wait for people to actually hear her
performance because it's just so amazing what she's done with the
character in this short pilot. It's an amazing 14 minutes."
This news comes just months after Etomi graced
the front cover of Vogue Magazine
alongside some of the world's most famous actresses including
Hollywood'
s star,
Scarlett Johansson.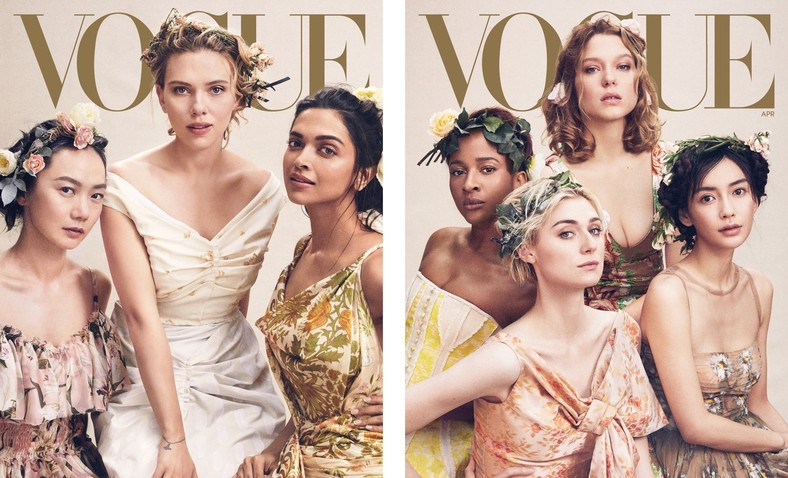 Vogue cover with Adesua Etomi on it
What you need to know about Malika: Warrior Queen
This Nigerian animated series was first
introduced back in 2016 as a new member of Okupe's entire universe of
African superheroes.
She is a fifteenth-century badass West African queen and military commander fighting for her ever-expanding empire.
Okupe said, "You basically get to see how an African queen lived her life back then."
The first of the 150-page book, set in present-day Nigeria, later came out in 2017. The synopsis read, "Growing
up as a prodigy, Malika inherited the crown from her father in the most
unusual of circumstances, splitting the kingdom of Azzaz in half. After
years of civil war, Malika was able to unite all of Azzaz, expanding it
into one of the largest empires in all of West Africa. But expansion
would not come without its costs. Enemies begin to rise within her
council, and Azzaz grabbed the attention of one of the most feared
superpowers the world has ever known: the Ming Dynasty. As Malika fights
to win the clandestine war within the walls of her empire, she must now
turn her attention to an indomitable and treacherous foe with plans to
vanquish her entire people."
Part two of the 15th century-set epic story came out in 2018. Now, Okupe is set to continue the saga through an animated pilot.
The series will have three scenes and five speaking roles played by Etomi, Femi Branch, Deyemi Okanlowon, Blossom Chukwujekwu and Sambassa Nzeribe.
It will be executive produced by Niyi Akinmolayan of Anthill Studios.
Mr Eazi proposes to Temi Otedola!
For what seemed like a long while, celebrity power couple—Mr Eazi and Temi Otedola—are finally engaged as Oluwatosin Ajibade better known as Mr Eazi pops the heartwarming "Will you be my wife?" question to his girlfriend of 2 years Temiloluwa Otedola and she responded favourably in the affirmative "Yes" tone.
Fashion mogul and Icon Temi Otedola began dating artiste and music label CEO Mr Eazi in the year 2020 and have been living together ever since in their London apartment, sharing intimate moments, even meeting respective family members. This they've both shared in detail on their How Far? With Mr Eazi And Temi Otedola podcast.
Temi announced her engagement by posting the sea-side proposal of Mr Eazi on one knee asking the important question. The video goes by the simple caption of the infinity logo connoting they're both locked in for life.
Congratulations to Temi Otedola and Mr Eazi!
Nicki Minaj agrees "Essence" should be song of the year at the Grammys
American superstar rapper, Nicki Minaj, shares the same sentiments as myriads of Wizkid fans and well-wishers worldwide, in that she concurs to the argument the trendsetting crossover record-breaking single from Wizkid's 2020 released "Made In Lagos" album, Essence should be in the conversation for the coveted "Record of the Year" plaque at this year's Grammy Awards.
Nicki Minaj agrees with Joe Budden that Essense should be Grammy Song Of The Year pic.twitter.com/hvdxQlItod

— King Henry 🥷🏾🛸 (@Kinghenryyyyyy) March 9, 2022
Although "Essence" did not receive the much desired nomination in the category for "Record of the Year" at the 2022 Grammy Awards, it did get a nod for Best Global Music Performance, the first of its kind.
Irrespective of the snub, Nicki whilie on Joe Budden TV (YouTube) as a guest on the special episode tagged A Conversation With Nicki Minaj & Joe Budden agreed with the host (Joe Budden) when he said "We need people on the Grammy board that know that "Essence" was song of the year" with an exclamatory "Right! Right!" response. She even proffered, "We should have our own Grammy Board", in support of many and the popular believe that Black Americans or black artistes in general are always stereotyped to a particular category at the award show, if indeed they made it to the top categories, they barely win; Nicki Minaj does not have a Grammy Award herself and that is still a shock to many, especially when considering her refined catalogue of music.
Pheelz & Buju (BNXN) live the carefree lifestyle on "Finesse"
After much teasing, the anticipated Finesse by Pheelz and Buju (now BNXN) hit DSPs across the globe and just like the teaser gave off, Finesse is a banger! It is produced by young producer under Pheelz's wing known as Miichkel.
On Finesse, Pheelz and Buju live their life to the fullest, the carefree lifestyle is what they desire and they are determined to stay on that track for the time being. "I've been living the fast life but I see it in slow mo / And you see my lifestyle, I got Gs in the turbo / . . . / Bad girl sey she want Netflix & Chill / So I ja ticket give her warning / If you fall in love, girls it's certain / You go chop breakfast, I'm not capping", Pheelz explains on the first verse, even saying love and relationship cannot stop him from living the 'ballers' lifestyle; "I'd be dammed if there's anybody that could be like me / I be like Mo' Salah, coming up the right wing / I cut through your defender, you no need to tell me / I must finesse / And you know sey me I must net", Buju braggingly adds on the second verse, saying he can score any chick that catches his eye and dish her the next minute.
listen to the popular joyous chorus "Ah finesse / If I broke na my business / Ama shana e go bright o / Folake for the nighr o" here or on Apple Music.: