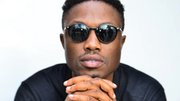 Vector talks about his background, religion, his beef with M.I,
Vibes Before T.E.S.L.I.M EP, T.E.S.L.I.M and the '2017 open letter.'
Dressed in a black, buttoned sweater, ripped jeans, a pair of sleek dark shades and adidas sneakers, all of a sudden, he seemed taller. Even worse, he wasn't smiling.
The tension was palpable, but not boiling over. A few days prior, this writer had published a brief history of his beef with M.I. Abaga
.
It was in the thick of the action as M.I's EP and reply were expected three days after the interview. He had also dropped a second diss track, 'Tetracyling,' only four days before this chat.
Due to traffic, he arrived 45 minutes behind schedule with his manager. All studios were occupied with
Big Brother-
related happenings and interviews. Everytime this writer came down to give him and his manager feedback, he still wasn't smiling. His manager did the talking.
By the time he entered the studio, the production manager was shocked at who he was about to mic. He said, "Oh! Boss, I didn't know it was you. This interview go long o…" Vector laughed – the first switch from the stoic lack of expression and a frown.
The production manager was right, the interview was unexpectedly long. One of the best this writer has ever had.
His name is
Olanrewaju Ogunmefun –
the barrack kid
.
You know him better as
Vector.
As much as anything, he carries his hood, Lafiaji, Lagos Island, Lagos on his chest and back. It's an identity, a grounding, a DNA and a strength. In return, Lafiaji recognizes him.
When he had a court case with
YSG Entertainment
– which he won – Lafiaji rose up. His third studio album is also titled,
Lafiaji.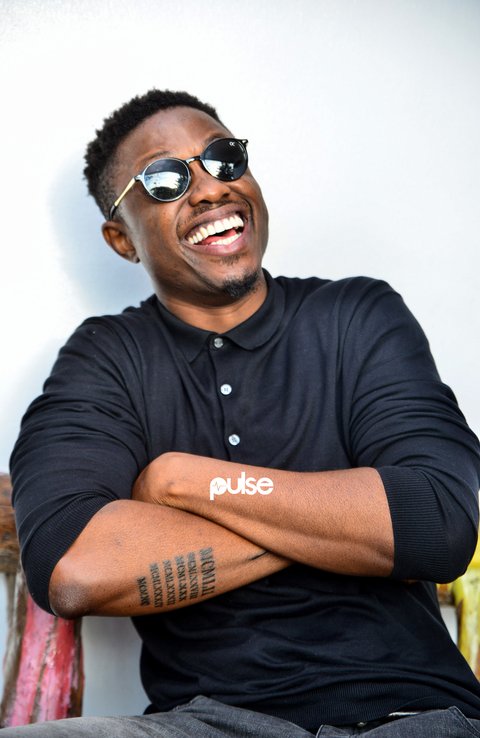 "They may not have had money to help me fight the case, but oh… they trooped in. At a point, even the Judge had to question why there were about 20 boys marching into the court house," he says.
He tells Pulse about a time Nigerian legend,
Sound Sultan
was shooting a video in Lafiaji and boys told him in Yoruba that, "
Alaye, you're in Vector's hood o
," just as he (Vector) drove past. Vector who now lives in a high-brow estate on Lagos Mainland says that he can afford to be in a bougie spot, but he doesn't want to ignore his, "
permanent truth (Lafiaji).
"
He admits to being handsome and being a magnet for women, but he also recognizes that he has friends who are comfortable being bus drivers. He claims that people he surrounds himself with take pride in working for themselves and hate hand-outs.
Cele (Celestial Church of Christ)
He grew up in the Celestial Church of Christ. As the son of an affluent Pastor who was also a police officer. He says that he first realized societal disparity/classism in church. His younger brother would be allowed to play around the church with a console-controlled toy car while other kids were conscripted to a space.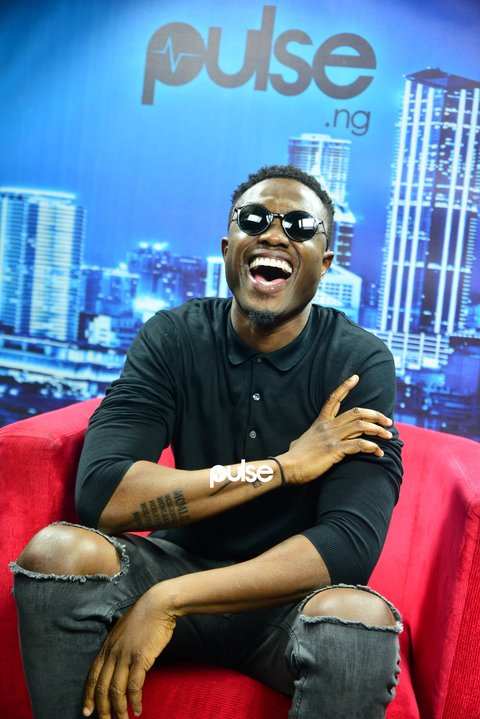 He reflects upon how special 'Church Harvest ceremony' days were for his family. He would be dressed in gold chains with his brother and Dad while everybody else celebrated them like kings.
It wasn't without its negatives too. People wanted to test him as they thought him bougie. He says even had to fight a guy in church to prove his street cred.
But now, he's left the church after a Pastor who was later arrested for fraud would always foretell money-related talk. Now, he's spiritual, but not religious. However, he still visits the church to seek mercy from God. To him, mercy is all he needs.
That said, he likes two things about the Celestial Church of Christ; its way of putting people as equals with the uniform white outfit and how they have 'ipese' where everyone eats from the same pot.
Vector's mom told him he used to wordplay as a child. He was always different, but he didn't understand it. At some point, he was going to become a Doctor because he was good at biology.
Then, he started drawing comics in his books. Then, after he'd been beaten by
Mr. Salami
(his Maths teacher) at
St. Gregory's College,
he'd go home and listen to the
Raekwon
album he bought at Obalende.
Then one day, he met some older guys who lived two blocks away in the barracks he grew up in. They were kicking freestyles. He remembers one line from that day, "
I keep going, I no dey tire. Unleash the dragon, tattoo Sisquo higher.
" Then he started a rap group with friends called,
Badder Boys.
At the time, he also sang tenor in the Church choir while learning to play drums. His sister had taught him melodies and keys. His choir won competitions for fun and the first time he rapped in church, people said in Yoruba that, "Hip-Hop in church? The holy church is now spoiled o."
It was the second strike that put him on his way of out of church. Then, his dad paid for his first demo in the 90's – a song about money. Looking back now, he feels, "Whatever is destiny to you will come to you easy."
He got into the renowned
University of Lagos
where
Vector
studied Philosophy. He discovered battle rap and he was unbeaten for three years.
In 2008, these events led him to a show organized by
Illbliss.
The DJ was
Spinall.
He won with the line, "
And now you're scared to watch. It is my time, it is your watch.
" There, he met with YSG Entertainment and signed with them.
Then, he signed a deal with UK-based
Odinero Records
in 2009.
His debut album,
State of Surprise
dropped in 2010.
Court Case, Label Issues and Personality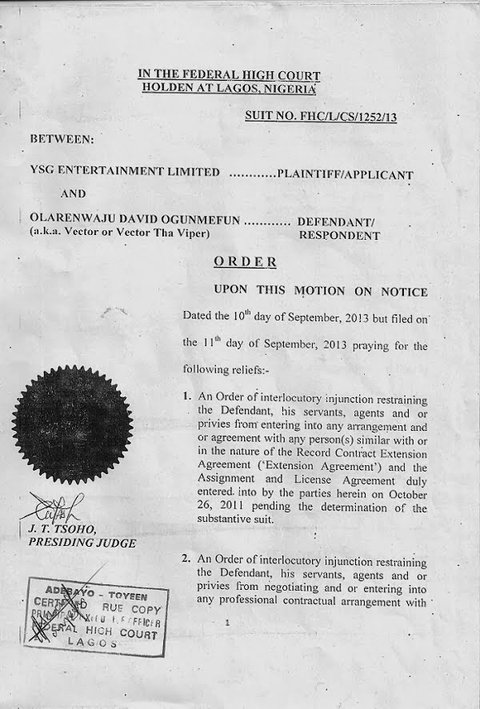 On September 13, 2013, Nigerian rapper,
Vector's
dispute with his then-label,
YSG Entertainment,
under which he released his first two albums became a court dispute.
A Federal High Court in Lagos granted an injunction to restrain Vector from further breaching his then-contract with record label YSG Entertainment. This came after dispute over Vector's willingness to see out the terms of the record contract he signed with
YSG.
He won the case.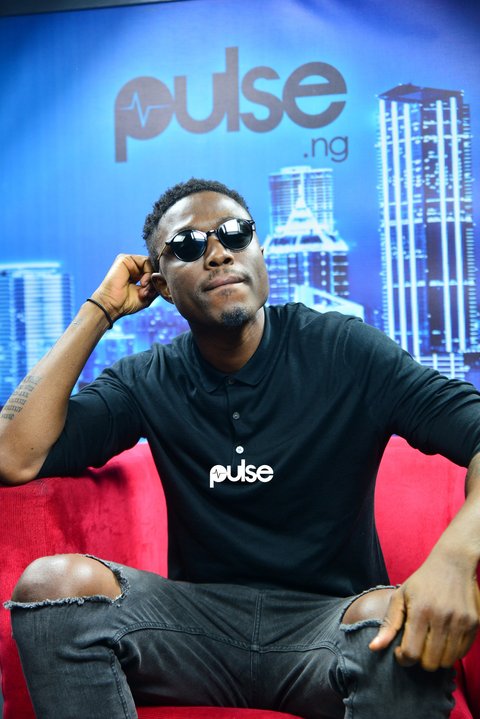 Although he is now cool with the label guys, it was a torrid time that also opened his eyes to the inadequacies of Nigeria. He claims that the issue wasn't as much about post-traumatic stress disorder (PTSD) from the case, it was about PTSD for from watching the degeneration of Nigeria from a legal standpoint.
When the matter was over, Vector had been dragged to court dates outside Lagos. He says that he moved out of his apartment with only 33 pairs of sneakers and 20-something hats. It ended and he had to start from the scratch. He gave all the shoes and hats out and challenged himself to get back up.
The money he had left on him, he used it to purchase studio equipment – music was an outlet to deal with the pain. He recorded his first song after his car got bashed. But then, he bounced back. He says, "Sometimes, you go all the way down, but you just have to get back up."
Interestingly, he says he had lots of sex during that period. It made him realize the problem with overpopulation, "The poor man can't afford anything fun except sex with him wife."
On whether he has moved on, he says, "Guy, you never really move past it. I realized that everything you go through registers mentally. You may suppress it, but I don't think you can ever move past it because there will be certain triggers in the future (that will take you back to that moment)… The human brain is such an amazing organ that deters you from those situations.
Unknown to him, he was describing PTSD. Interestingly, he also says, "I've also realized that to some people, I'm a bad person."
"You just have to suppress that and move on to greater to things. The same way I believe that everybody has negative traits, but what makes you a better person is the ability to take that negative trait and tell it to sit down for the positive trait. But now, I'm cool with that, I'm cool with the label and the CEO. I think I even owe him one content (laughs).
On how he deals with people thinking he's a bad person, he says, "A lot of people think I'm cocky because I can speak plenty English and I'm 6'4 and I smile a lot, but I don't find a lot of things funny. I get that misconception a lot, but it's theirs not mine. I don't bother about that (being a bad person)."
As he was working on
Lafiaji
, his dad passed.
Losing his dad impacted fatherhood for him, "I realized that be a father in every responsible way that you can, but realize that na person wey dey okay na him dey be responsible o. Sacrifice, but you count. The day you die, your child will have consolation sex."
First things first, he says, that, "I never compete with myself finish. Everybody's life is too much of a rollercoaster… Even worse, you're worse. But then, that's the mentality we were raised with. We were raised in the competitive nature of things… You automatically register in your mindset what all your mates are doing…
"And I'm sure we've thought about it as adults too. The yardstick we judge ourselves by is what will other person do…"
As M.I claims in that open letter,
Vector
confirms they did meet at the British Council, Words and Pictures, Ikoyi in 2007.
He says people told him, "'This could can rap with virtually anything' and they go 'okay, thrown words at him, show him stuff' (Vector raps). They were like 'Oh my God' and I was just a barrack boy that was there – a different type of kid. I guess that was it, the first encounter."
However, they never had a rap battle.
On '
The Viper
,' M.I confirms that he felt some energy from
Vector
after listening to
'Kilode,'
Vector's debut single from his debut album,
State of Surprise
in 2010. He rapped that he felt Vector had always hated him.
Vector rejects that claim, "To be very honest, I was just getting too many 'you sound too much like Jay Z' and I was like, 'Guys, I'm just a very young boy rapping. If I would project, I would sound on a high pitch, There's no bass in my voice. Today, If I project, projecting is leaving your comfort zone of speaking and increasing your vocal ability.
"I will definitely get into head or slightly no voice. And I was like 'Kilode?' Like General Pype is my friend and he sounds like Sean Paul. Durella sounds like D'Banj, but it's this guy that… P Square, that's Usher and Usher Ray… Na so e be… But these guys were not listening to me. I was saying some stuff.
"It was just me using my music as usual as an avenue to let out what I felt and that was like… And they kept asking my like, 'Yo, can you battle M.I?' And I was like he's a cool kid now, like he's chill. Not in a condescending way… We all call ourselves cool kids on our records. So, that was what that was it was.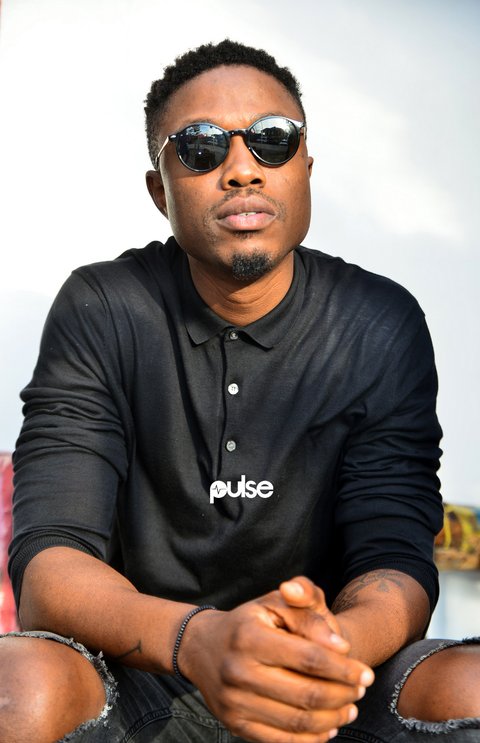 "If there was any animosity or frustration, it was more from the angle of, 'You guys are denying me my respect and things I deserve' simply because they think I sound like Jay? Come on."
Vector says the first time he felt the energy from M.I was after he made a remix to
Ice Prince
's '
Oleku
.' He rapped, "
As a point, where it all started was the 'Oleku' remake that I did with H-Code. He played the beat and I was excited. I did my verse and from there, I was hearing a lot of things that were coming in that it look like I was sabotaging their work…"
"I was like 'No now, like come on, guys…' Okay, so I just left it… It even leaked out of H-Code's studio. At that point, it started to feel like they took a lot of offence and they took it personal. But I didn't understand why.
On why he feels
Chocolate City
felt slighted, Vector says, "
I wouldn't know. I've heard people say my version was fire. I guess it was the first rap song that had people going, 'I'm A-list now, so I cannot be you. Oye mi tide po si you…' I was just having fun, it wasn't… People have preferences, but I always gave shout-out to Ice Prince and all that.
"I remember always telling people that, 'Don't say Ice Prince's version' is the original version.' I remember saying that on Rhythm FM back in the day. Ice is the originator, I am the one with the version.
"From there, it started to become… It was heated at a point and became news on radio and certain things were said about actions that they were going to take. So my CEO then had called me, and I was just telling them that I just did a version and that it wasn't that serious…
"They called a Lawyer and talked about copyright infringement… I admitted that maybe I shouldn't have because it really isn't my own.
"I had no rights over the music other than the lyric that I wrote. So, I understood, but my CEO called for peace action and all that. But in my head, I was like, 'What is peace action here? I was just dropping bars on other beats.
"I would say this clearly. I didn't see anything like an attack from them, but on the discussion table, you could tell that there was displeasure from their side of the fence. At some point, it felt like the 'Oleku' version that we made was picking up a lot."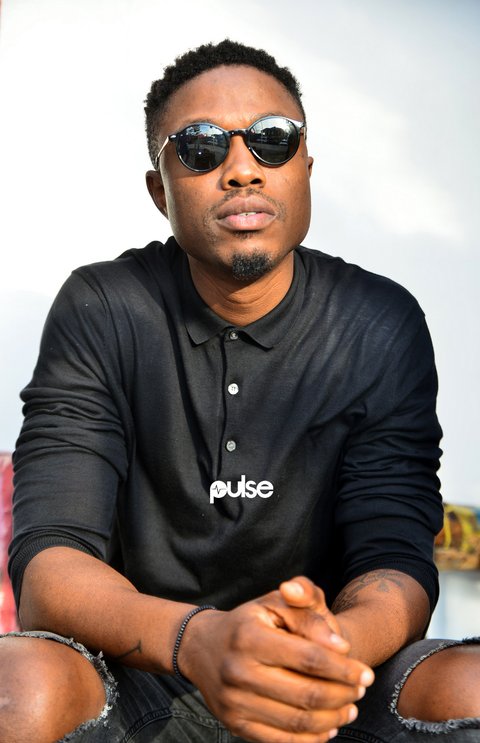 Vector then goes on to say that there was no beef from his side, but that his CEO (of YSG Entertainment) told him that there was tension. He also says that he has never seen himself as a pioneer, but as an artist. He says that he feels like he's just trying to be an artist.
"When I see these other guys like CDQ, I forget I'm Vector. I forget that a lot of these cats would play my record before they blew. I don't remind myself that I'm something that has achieved anything," he says.
In 2017,
M.I Abaga spoke on a radio show
that he had never made any music with Vector. Vector came back with a message that felt more like a clapback. He said he tried to get M.I on his 2015 single, '
King Kong.'
Vector also stated it clear he was ready. M.I then ended it with an
open letter.
Vector says, "That was a lie, he knows why we didn't work.' If I open my email now, you will see it, gbam. The first attempt to work together was 2015, but before then, he had actually sent me a record (in 2012 or 2013) and the beat was fire and I had already prepared a verse. I then responded back with a mail that I was ready.
"Then, his email had Loopy Records in it. I never got a response, so I was like it's fine. Then I let it go, we didn't speak for a while. Then, in 2015 when we made 'King Kong,' I was like 'for the culture, let's do something massive,' so I reached out via Instagram.
"Recently he sent me a message fooling around being a nuisance, but it was that DM he sent me that made me realize that there was a message before that where he sounded positive, but never got back again. As typical, I felt that he was a bigger rapper in Nigeria and left him alone. My Hip-Hop is not that.
"After a while, I sent him another record titled, 'Clowns' which was about fear. I remember the intro goes like (Vector raps). I was like yeah, the general idea was meant to be that dope conscious rap. I didn't want it to be another socio-political rap song.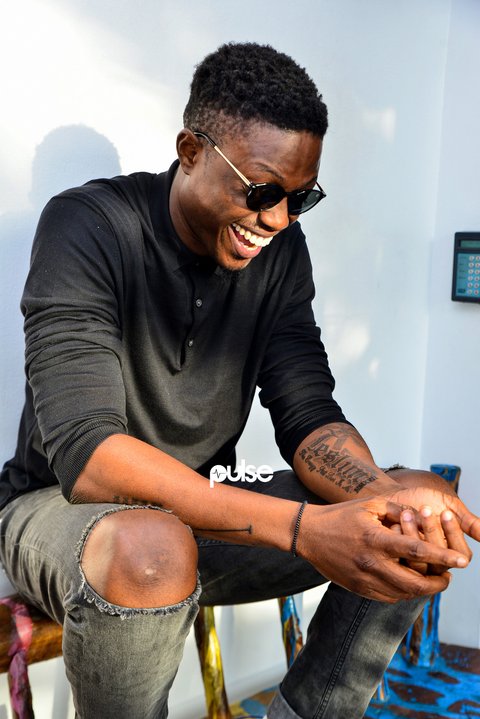 "I sent him the record, I think the last time I talked to him was January 21, this year… So when I saw that interview where he said, 'And I'm like the guy that works with everybody o,' I was shocked.
"This is where that thing started to make me feel uncomfortable because what is the benefit of that? You could have easily said that we were working or it or something more diplomatic. He didn't have to say that. Well, I guess that out of everybody, I'm the one everybody mistakes me for the cocky and proud guy."
"A lot of people know I think I'm likeable, but gullible think I'm cocky. I'm a confident man, this is one thing Nigeria has lacked; confident people… I may be wrong, but I felt like he was attacking me… Like since people think I'm difficult person, it only means you capitalize on that? How much of a devil does that make you?
"He didn't need to say this. They don't need to know… It's not necessary – that additive of, 'Na me wan work with everybody.' He didn't have to say that. It's okay, but he didn't have to say that.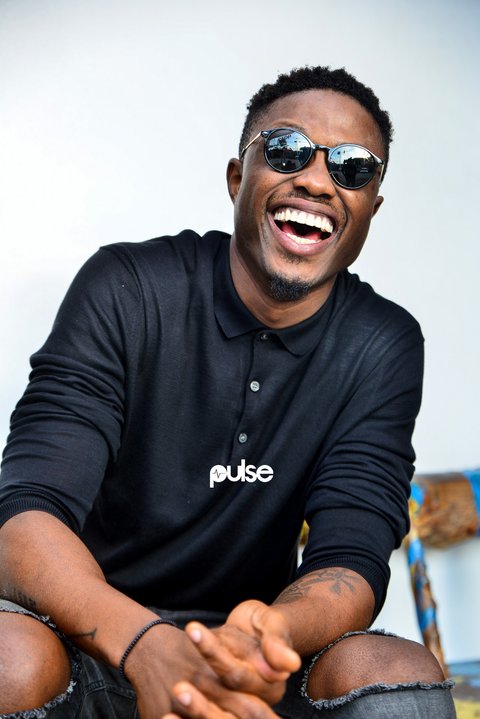 When he wrote me an open letter, I was like, 'Jesus, open letters now?' okay, talk to you later (laughs). I know you, I know too much about you. You don't now go do a cypher and now take a swipe at another brand that is doing another cypher. There is only one other – the bigger one, but yeah. We let that go too.
"I've never said this before, but I feel like that first cypher was the premise upon which other activations was supposed to happen with his brand, but because we ignored, it didn't kick off. That can only explain why Martell let M.I go. For you tweet that you want the job at Hennessy, it means your contract is done with the other guys. They're both cognac brands.
"Then he does a second one… Abi he has forgotten who I am? So, this is me just disciplining him on some level like… That was why I went to his lounge to buy Hennessy because I don't give a f*** I can be disrespectful, I can from the battle field in life and in rap. What is wrong with you? If we are all excelling, you should keep your opinions to yourself. Let's just all excel.
"But then if you want this, na sand for bar beach. E plenty. So let's make this very clear. So let's do this (the beef) once and for all… I stopped entering for Headies because I felt there was too much discussions around validation."
Vector says that he stopped entering for Headies because it felt like it was being used for validation. He also says that his awards are at home on the floor. He claims thoughts like this make people like him – with high IQ – feel out of place. He feels like he's done with vain battles of greatness.
M.I Abaga scooped Vector for 'The Purge' and posted the song on his own page. Vector called it, "stupidity" and says that M.I risked a lawsuit. When asked why he didn't sue M.I, he says, "What makes you think I didn't
You might notice that M.I has taken '
The Purge
' down from his
YouTube
page. When asked why he dropped, '
Tetracycling
,' he laughed and says that he's just having fun.
Vibes before T.E.S.L.I.M and T.E.S.L.I.M
T.E.S.L.I.M
is the album,
Vibes Before T.E.S.L.I.M
is the 8-track EP dropping. Teslim is Vector's father's name. Vibes Before Teslim EP is the journey of self-discovery.
T.E.S.L.I.M
is the discovery.
The EP drops today or in the early hours of tomorrow. Four visualizers have been shot for it. The first of those songs is, 'Your Biology Is Sending You To Hell,' the second is, 'Vector's Vibe (Women and Sex), Oja, (Friends and Drugs) and 'Mind Games.'
THIS INTERVIEW WAS EXTRACTED FROM PULSE.NG