The cheap and shady business of taking selfies with tigers




© Taylor Weidman/Getty Images
A tourist poses for a picture with a tiger on July 25, 2014, at Tiger Kingdom in Mae Rim, Thailand.


You can take a selfie with a tiger for a couple bucks in some zoos around the US and the world. That doesn't mean you should.
Tinder
realized it had a tiger problem in the summer of 2017. Too many of its
users were featuring photos of themselves crouched next to big cats like
tigers and lions, animals that, had a random Tinder user approached
them under normal circumstances, would probably try to eat them.
That
is what tigers and lions do when they are living in the wild and going
about their business. But the tigers "posing" with Tinder users weren't
roaming free; their handlers at zoos and entertainment venues had made
them available for pics through sedation or other harmful practices.
Over the course of the 2010s, taking a selfie cuddling a tiger became
easier and cheaper than ever.
"Posing next to a king of the jungle
doesn't make you one," began a blog post on Tinder's corporate site on
July 28, 2017. "It's time for the tiger selfies to go. More often than
not, these photos take advantage of beautiful creatures that have been
torn from their natural environment. Wild animals deserve to live in the
wild."



© Tigers of Tinder


The post was in response to a letter from PETA calling for a ban on
tiger and lion selfies on the app. But while Tinder discouraged users
from uploading them, it didn't enact an outright ban. Two years later,
Tinder is still brimming with possibly sedated, likely mistreated wild
animals.
Although presumably those who take these kinds of photos
might think that posing next to a lion will make them seem like moneyed
adventurers, or "wanderlusters," to use a Tinder term, the photos
themselves are often taken in shady zoos, where the cost to get up close
with a lion or tiger is barely more than an Uber fare.
Zoos that allow tiger and lion encounters are often shady, and cheap
There's
a reason you can't pay hundreds of dollars to bottle-feed the baby
tiger cubs or pose with a lion at most reputable zoos: It's because
wildlife advocates have stressed for years that human encounters with
big cats are both dangerous to humans and encourage the mistreatment of
the animals.
Gallery: Incredible photos of animals in the wild (Espresso)
The state of New York, for instance, banned direct contact
between people and lions, tigers, leopards, jaguars, and cougars in
2014, in a bill that eventually became known as the "Tiger selfie" law.
The
bill was aimed at so-called "roadside zoos," or small and largely
unaccredited facilities where wild and exotic animals are kept in
captivity, according to the Animal Legal Defense Fund. These zoos can
keep animals "small, dirty cages," where they're "fed inadequate food
and denied medical care" but operate legally by taking advantage of lax
state and federal laws.
They're often the same zoos that
advertise experiences to take photos dangerously close to wild animals.
Whether they're located in the US or abroad, they tend to share certain
qualities: Their websites are often sparse, broken, or amateurishly
designed, and admission is often cheap. Cricket Hollow Animal Park in
Manchester, Iowa, which advertises photos of guests holding baby wild
cats and other animals on its Facebook page, charges just $5 for
admission.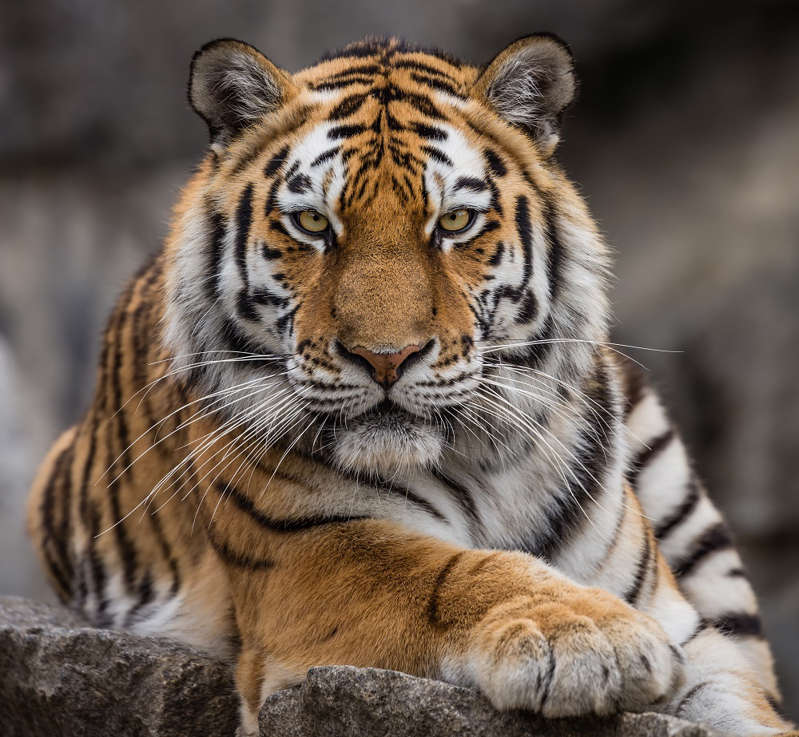 © Getty
Close up view of a Siberian tiger


Despite the fact that it's been hit with multiple legal setbacks,
including a 182-page decision from the US Department of Agriculture to
revoke its license, the animal park is still in business. That's because
it's still perfectly legal in many states to keep tigers as pets.
It's
a similar story internationally. At Casela Park in Mauritius, petting
cheetahs and lions inside their enclosures costs, respectively, about
$20 or $25. At Indonesia's Taman Safari Park, that cost is only a few
dollars.
Few places in the world are as popular for tiger selfies
as Thailand. More people are visiting — the Thai tourism council
predicted a 5.5 percent increase in visitors for 2019 thanks to lowered
visa barriers, bringing the total number of expected tourists to more
than 40 million — which means more potential visitors to these zoos and
animal parks. Despite a major crackdown on the infamous Tiger Temple in
2016, where wildlife officials confiscated 137 tigers and found freezers
full of the carcasses of 40 cubs, as well as another 20 cubs floating
in formaldehyde jars, the country's tiger tourism sector is booming.
Animal
rights activists have long warned tourists against visiting them, but
it hasn't stopped places like Sriracha Tiger Zoo from offering tiger cub
bottle-feeding and up-close photos with adult tigers for just 650 baht,
or about $20.
At
Tiger Kingdom in Phuket, prices vary based on the size and age of the
tiger you'd like to take a picture with — premiums are given to the
smallest and largest tigers. A photo and 10 minutes with a baby tiger is
about $40, while the same time with the biggest tigers is $31. Small
and medium-sized tiger photos cost $28. Information on the site informs
visitors that they're free to touch the tigers under the instruction of
the tiger keeper.
It's common for zoos like these to claim that
they don't sedate their animals. The Lujan Zoo outside Buenos Aires,
Argentina, which at one point allowed its guests to ride and feed lions
and bears for just $25 (its logo is a person touching a lion), told the
International Business Times that they simply feed the animals before
they interact with humans, and that the animals are raised with domestic
dogs to learn "boundaries."
Guests wrote on TripAdvisor,
however, that the animals appeared "obviously sedated." Though it's
difficult to know for certain whether or not an animal has been sedated,
many videos taken at similar zoos show unusually groggy or tired lions
and tigers posing with humans.
Regardless
of if they're being given chemical sedation, it's more than likely that
if a zoo allows guests to hold or hug a wild animal, that its
well-being has been compromised. It's a point stressed by World Animal
Protection (WAP), an organization which tracks animals in entertainment
venues. Its research shows 62 percent of tiger selfies between 2014 to
2017 to be "bad" wildlife interactions, or ones that showed someone
holding, hugging, or "inappropriately interacting" with the animal.
The
organization also released a 2016 study on the Thai tiger tourism
industry, which found that about 830 tigers were kept in entertainment
venues in the country, a third more than just five years earlier. WAP
attributes this to the rise in demand for tiger selfies on social media,
and notes that the conditions in some Thai animal entertainment venues
are bleak — tigers are housed in concrete cages with limited access to
fresh water and consistently exposed to visitors and other stressors.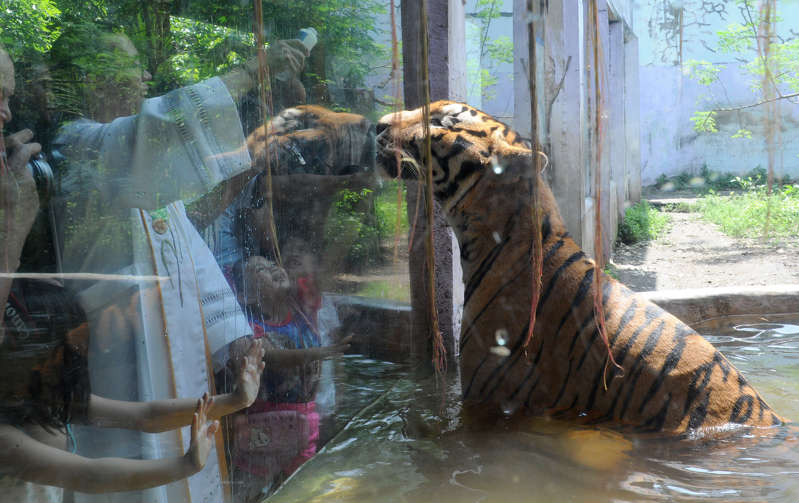 © Getty
A Roman Catholic priest (L) blesses an Asian tiger with holy water on
the eve of World Animal Day at Malabon Zoo in suburban Manila. The day
began in Florence, Italy, in 1931 at a convention of ecologists, whose
intention was to highlight the plight of endangered species and October 4
was chosen as the date because it is the feast day of nature lover
Francis of Assisi, the patron saint of animals and…

Cub-petting tourist attractions are particularly exploitative.
"People love getting their pictures taken with tiger cubs," Angela
Culver, media director of In-Sync Exotics Wildlife Rescue and
Educational Center in Texas told the BBC last year. "Often they are kept
on a bottle too long to keep them artificially small, and malnourished
so they can be more easily handled; then they are either sold off, used
for breeding or euthanised unless a sanctuary steps in — it's a vicious
cycle."
And in the US, it may be worse: USDA guidelines only allow
big cats to be pet and bottle-fed by visitors when they are between
eight and 12 weeks old, which means that when they grow, they may be
killed or given to rescue centers who are already overburdened.
"There
are not enough accredited, high-quality sanctuaries in the US to rehome
the volume of tigers bred here for commercial use," explains Alesia
Soltanpanah, US executive director at WAP, "including the many tigers
that may be considered disposable by owners once they're more than 12
weeks old."
By all measures, this kind of tourism is only
continuing to grow. Along with rising tourism rates as a whole, demand
for wildlife tourism has risen in the past few years, which has
translated to more animals being kept in entertainment venues. WAP
estimated that as of 2016 there were up to 550,000 wild animals in
tourist attractions, and that that number is even higher today.



© Rebecca Jennings


"Social media normalizes behavior that actually puts wildlife in
jeopardy," adds Soltanpanah. "The sharing of selfies and videos with
wild animals like tigers unwittingly sends a message to thousands or
even millions of people at a time that this activity is acceptable."
Which,
of course, make it even harder to stop. Besides Tinder's call to remove
tigers from its app and New York's ban on big cat interactions, since
2017 Instagram has done its part by alerting users searching for
hashtags like #tigerselfie that the content may be associated with harm
to animals.
WAP hopes, however, that the public opinion will
shift — despite increased demand for elephant rides and tiger selfies,
the organization found a 9 percent drop in people who found elephant
riding acceptable in 2017, down from 2014, and hopes that will translate
to tiger selfies as well. Considering public backlash to the woman who
broke into the jaguar enclosure to take a selfie at an Arizona zoo in
March, it's possible that opinions are already veering toward the side
of the animals.